Is he serious? Libya's Qaddafi declares "jihad" on Switzerland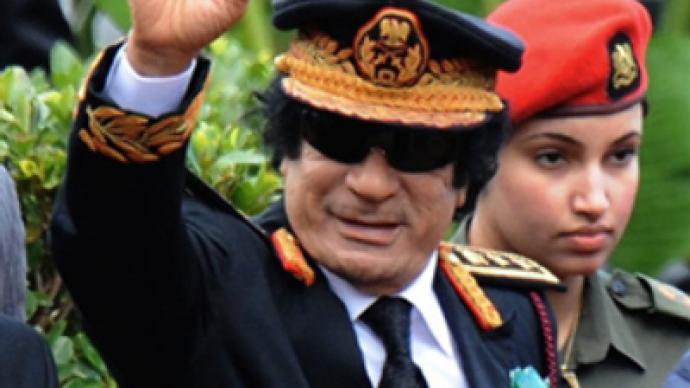 In the latest wave of rhetoric between Libya and Switzerland, Libyan leader Muammar Qaddafi has called for holy war against the European nation, whose people voted for a ban on minaret construction.
"Any Muslim in any part of the world who works with Switzerland is an apostate, is against (the Prophet) Mohammad, and God and the Koran," he told an assembly in the eastern Libyan city of Benghazi.
In his sometimes-incoherent address, he added: "The masses of Muslims must go to all airports in the Islamic world and prevent any Swiss plane landing, to all harbors and prevent any Swiss ships docking, inspect all shops and markets to stop any Swiss goods being sold."
Observers believe the latest outburst by the Libyan leader comes at a time when international mediators are working to smooth over tensions between the nations, and Qaddafi is merely delivering a theatrical parting shot.
"It is important to keep in mind that Qaddafi has always been prone to colorful speech," said one senior European diplomat involved in the meditating process. "It seems he is trying to attract international attention to his cause and those efforts seem to be paying off."
Rocky road
Relations between Libya and Switzerland began to deteriorate in 2008 when Gaddafi's son, Hannibal, was arrested in Geneva on charges of beating one of his staff members.
He was held in detention for two days, but Qaddafi is not somebody who easily forgets a slight: Libya halted oil shipments to Switzerland, made hefty withdrawals from Swiss bank accounts and arrested two Swiss businessmen, Max Goeldi and Rachid Hamdani, in the North African country.
Switzerland responded by blacklisting 188 high-level Libyans, allegedly including Qaddafi himself, from entering the country.
Bern never confirmed the existence of a Libya blacklist, saying only that it had operated "a restrictive visa policy" towards Libya since autumn 2009 in protest at Tripoli's abduction of the two Swiss citizens, who were released in November 2009 after having been detained in Libya for more than a year.
On February 15, the diplomatic tit-for-tat ratcheted up another notch as Tripoli suspended Libyan visas to "all citizens of the Schengen area."
Gaddafi is expressing his extreme displeasure over a Swiss referendum last year, in which 57.5 per cent of citizens voted in favor of a ban on the construction of minarets on mosques that are used for the call to prayer; 22 of the 26 Swiss cantons voted in favor of the prohibition.
Swiss citizens have been expressing their dissatisfaction with loose immigration legislation, which has authorized a wave of immigrants from African countries.
The vote drew harsh criticism from European leaders.
Leaders in France and Sweden condemned the results of the ban on new minaret construction, calling it an unfortunate sign of intolerance and prejudice.
French Foreign Minister Bernard Kouchner said he hoped the Swiss would overrule the decision.
"I am a bit shocked by this decision," he told RTL radio. "It is an expression of intolerance and I detest intolerance."
Swedish Foreign Minister Carl Bildt questioned why such a sensitive decision was put to a referendum in the first place.
"It's an expression of quite a bit of prejudice and maybe even fear, but it is clear that it is a negative signal in every way, there's no doubt about it," he commented on Swedish radio.
The Libyan leader, whose African nation is perched on top of the continent's largest oil supplies, said the vote proved that Switzerland was an "infidel state."
Qaddafi then tossed in some references to Israel and other outside forces: "Let us fight against Switzerland, Zionism and foreign aggression."
But Muammar Qaddafi, who has been in power since 1969, said he was not proposing terrorism by calling for jihad.
"There is a big difference between terrorism and jihad, which is a right to armed struggle," he told the assembled crowd.
The Swiss Foreign Ministry refused to comment on his remarks.
Europe's rocky relationship with Qaddafi
On Wednesday 21 December 1988, Pan Am Flight 103 en route to New York from London's Heathrow was destroyed by a bomb, killing all 243 passengers and 16 crew members. On 31 January 2001, Abdel Basset al-Megrahi, a Libyan, was convicted of involvement in the bombing and sentenced to life imprisonment in Scotland.
Last August, Scotland released al-Megrafi, the only man convicted for the act of terrorism 20 years ago, on compassionate grounds, as he is terminally ill. The decision drew criticism, since it came at a time when the United Kingdom was looking to build stronger ties with Libya, and British Petroleum was attempting to enter Libya's lucrative oil business. Meanwhile, al-Megrahi is still alive in Libya.
In the 1990s, Libya arrested five Bulgarian nurses and a Palestinian doctor on charges of attempted murder after an HIV outbreak at a Libyan hospital due to reportedly inadequate infection controls. Tripoli said the foreign medical team deliberately infected over 400 Libyan children.
The medical personnel spent eight years in detention in Libya before being released in 2007.
You can share this story on social media: