Medvedev imposes sanctions on Libya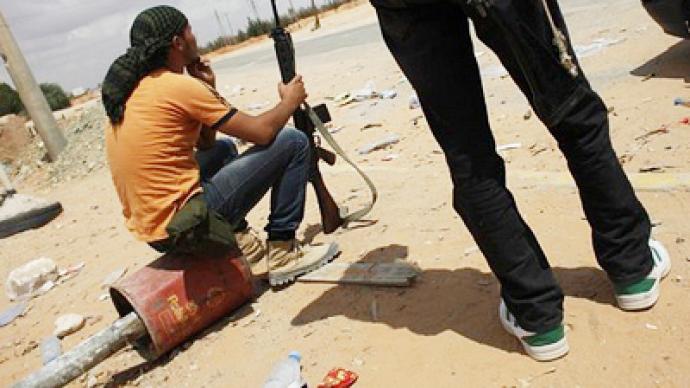 President Dmitry Medvedev has signed a decree to implement UN Security Council resolution 1973 that introduces sanctions against the Libyan regime.
The resolution that was adopted in March imposes a no-fly zone over the North African country and allows the use of force to defend civilians.Medvedev's decree bans Libyan planes from flying over Russia, with the exception of humanitarian flights, the Kremlin's press service said on Friday. Russian warships have been authorized to examine vessels sailing from or to Libya in the open sea if they are suspected of carrying military personnel, weapons or other banned cargo.The decree also bans operations involving money or the financial assets of  the closest relatives of Muammar Gaddafi, his entourage, Libyan legal entities, and bans several individuals from traveling to or via the Russian Federation.Moscow has also banned financial operations involving money or the financial assets of the Libyan leader's closet family members as well as some Libyan companies. The entry into Russia for some individuals linked to the current Libyan regime has also been denied. The UN Security Council's resolution on Libya, adopted in March, gave a green light to the military operations being conducted by some Western countries against Tripoli. Moscow abstained from voting on the resolution which authorized the use of force. But Russia then banned the sales of arms to Libya on the president's initiative. Gaddafi and his close allies were denied entry to Russia. Medvedev said that the Libyan leader "has exhausted his legitimacy and must go." But Russia has been criticizing the way the military operation is exercised and insisting that the civilian population should be protected. Meeting with his Libyan counterpart Abdul al-Obeidi on July 21, Russian Foreign Minister Sergey Lavrov called on both sides of the Libyan conflict to bring the hostilities to an immediate halt. The top priority now is to stop the bloodshed and launch a political dialogue, he said. Russia wants all political forces in Libya to start talks about "the democratic future" of the country.
You can share this story on social media: