Russians want Lenin reburied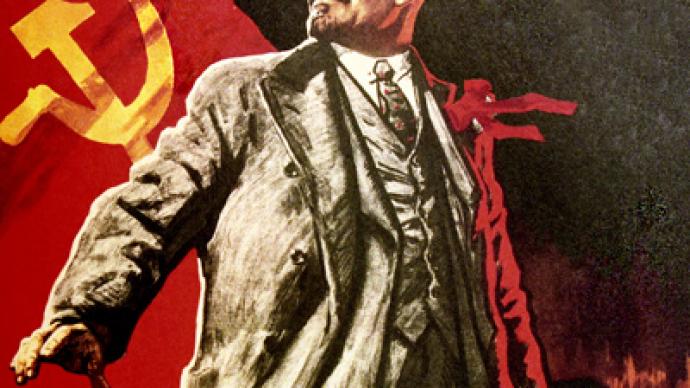 More than half of all Russians are confident that the body of the revolutionary leader Vladimir Lenin should be removed from the Moscow Mausoleum and buried, a poll published on the eve of his 142 birthday revealed.
According to Public Opinion Fund (FOM), 56 per cent of Russians believe the 1917 Bolshevik Revolution leader should be reburied, 28 per cent want his body to remain in the mausoleum on Red Square, while 16 per cent had difficulty choosing between the two options. Sociologists note that the number of supporters of relocating Lenin's body has increased by 10 per cent within the past six years. The dispute on the matter has been going on for over 20 years. However, rights activists believe it is still too early to raise the issue of Lenin's reburial, since many Russians would not accept the idea.Andrey Dementyev, member of the Public Chamber pointed out that the Bolshevik leader should have been committed to the earth according to Christian traditions right after his death on January 21, 1924 (notwithstanding his professed atheism). But back then the majority of people decided that his body should remain in the mausoleum and that opinion should be respected, he told RIA Novosti.Rights activist Aleksandr Brod agrees that there are many WWII veterans and pensioners in Russia who were raised on the ideology of Leninism and it would be difficult for them to reconsider his role and "forget that name." In addition, many people with low incomes are not happy with the current leadership and consider Lenin "a straw to clutch at." On the other hand, another member of the Public Chamber, Alla Gerber, believes Russia does not need "a mummy" of such a controversial figure: he should be buried, while the mausoleum should remain in place as an architectural memorial.She suggests that scientists or other honorable representatives of society should explain to people who Vladimir Ulyanov (Lenin was his pseudonym) was in reality, what he did and what it led to. Meanwhile, according to a survey by Levada Center, 48 per cent of Russians see Lenin as a positive figure, while about a third said he played a negative role in the country's history.The Bolshevik's most devoted supporters, the Russian Communist party, are opposed to the very idea of the relocation of their leader's body. Gennady Zyuganov, the head of KPRF, stated that every year on the eve of Lenin's birthday (marked on April 22) "provocateurs" suggest he must be reburied. On Friday, KPRF members laid flowers at the Moscow mausoleum to mark the upcoming birthday of the leader of the October 1917 revolution. Apparently, the party decided to do it two days in advance because of a tightly-packed schedule (on Saturday Zyuganov takes part in a protest against a NATO "base" in Lenin's birthplace, now named Ulyanovsk in his honor). However, the move stirred up criticism and even sarcasm among Russian internet users, since April 20 is in fact the birthday of Nazi dictator Adolf Hitler.
You can share this story on social media: