Belarusian leader wants to look opposition in the eye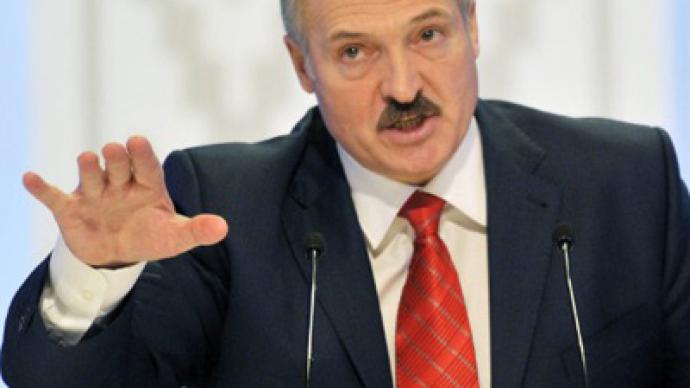 Belarusian president Aleksandr Lukashenko has called on his political opponents, the European Union and Russia to sit down for a round-table discussion about the current situation in his country and its future.
"As head of state, I suggest that all sober-minded people who love their country, regardless of their political stance, get together at the round table, look each other in the eye and assess what each of us can actually do to improve the situation in the country," the Belarusian president said during a meeting with officials, adding that "our goal is unity" and that the future should be decided through a dialogue rather than "on the barricades."Aleksandr Lukashenko also said he had invited the European Union to send representatives to take part in the round table and wanted to make the same proposal to Russia and other European and international institutions. In his opinion, it would be a good opportunity for them to see "who is worth what."However, a significant section of the country's opposition believes that dialogue with Lukashenko's regime should be boycotted as long as political prisoners remain in jail. A large number of opposition members were imprisoned following mass protests last December at what were widely seen as fraudulent presidential elections. "Talks are always better than confrontation," Interfax quoted former presidential candidate Vitaly Rymashevsky as saying. "But everyone must realize that in the present state the first topic of all negotiations should be unconditional release of all political prisoners and then the transfer of power," he told journalists. Rymashevsky was detained following December's protests and received a suspended sentence in May.Another opposition leader, Pavel Severinets, is uncompromising. His party, Belarusian Christian Democracy, has been denied state recognition and Severinets, who stood as a candidate in last year's elections, was sentenced to three years in jail. "While political opponents of the regime remain in prison, there can be no talk about any round table whatsoever," he commented. "What we should talk about is the conditions of Lukashenko's resignation and handing over the authorities to the transitional government."Head of the For Liberty movement, Aleksandr Milinkevich, noted that the authorities want to "appoint" the participants of the round table themselves. "We mustn't let it happen by all means," he said in a statement on the website of the movement. Despite calls for dialogue, President Lukashenko shows no sign of changing his policies. On Monday he took control of the internet in educational institutions in order for it "not to be used for destructive purposes". These imply "illegal, anti-social activities." The Belarusian leader was referring to this summer's "silent protests" organized through social networks, which were suppressed by the authorities. In an unprecedented move, the Belarusian parliament drafted a new law providing for sanctions for "organized inactivity".
You can share this story on social media: