Russian President opens doors to State Duma for all parties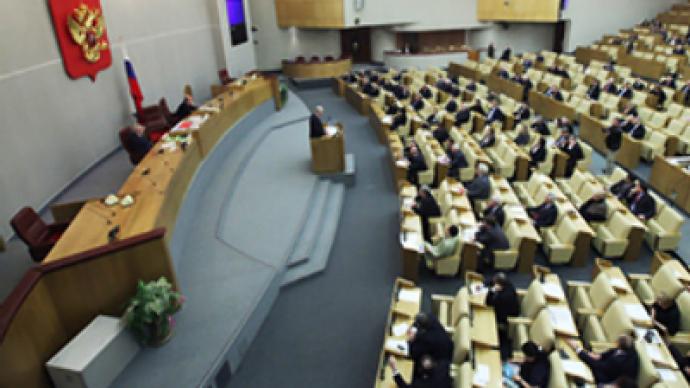 Dmitry Medvedev has introduced amendments to the Federal Law on Political Parties, allowing parties not represented in state legislative authorities to participate in sessions of these bodies at least once a year.
The draft law, however, does not set a maximum number of sessions which those parties can participate in.
Currently, only four parties have made it to the State Duma: the ruling United Russia party which holds the majority number of seats (315), the Communist Party (57 seats), Liberal Democrats (40 seats) and the Fair Russia party (38 seats). The rest of the parties did not overcome the 7 per cent threshold required in the 2007 elections.
The idea to give minor parties a better "voice" was mooted by the President in his address to the Federal Council in November 2009. During his address, Dmitry Medvedev also stressed the importance of multi-party system, and introduced some measures to help more parties to get seats in the State Duma.
"The so-called 'barrier' for parties to enter the State Duma has, in fact, been brought down to 5 per cent. The parties have the right to put forward candidates for positions of leaders in federal jurisdictions, as well аs the guarantee of equal coverage of their activities in the state mass media."
According to the proposed amendments, published on the Kremlin's official website, the legislative authorities will hold special sessions dedicated to the proposals of the parties which do not have seats in the state or regional parliaments. During such open-door sessions, the parties will have a chance to address the parliament and to voice their concerns and ideas; however, they will not be able to vote on them. In his address to the Federal Council, the President stressed, however, that the ideas presented by non-parliamentary parties should be taken into consideration:

"It would be good for agencies of legislative power at all levels to dedicate at least one meeting a year to taking suggestions from parties not represented in legislative agencies, and discussing them."
In addition, the non-parliamentary parties will also be able to participate in discussions of the most topical issues (such as the project of a future budget, for instance). The leaderships of those parties will decide upon who should attend those open-day sessions. The amendments have now been sent to the State Duma for further consideration.
You can share this story on social media: