There will be a "new Libya" – Russian FM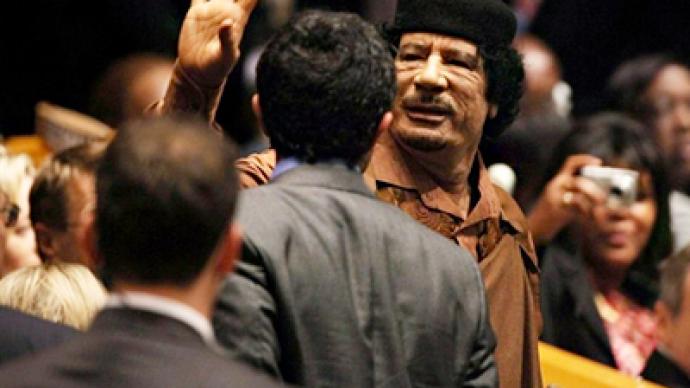 Moscow has called on conflicting parties in Libya to start dialogue without preconditions and warned the West against repeating the Libyan scenario in Syria.
The situation in Libya should be directed onto a political track as soon as possible, Russian Foreign Minister Sergey Lavrov said in Almaty, Kazakhstan, on Friday. The services of the UN secretary-general's special envoy and the African Union's mediating proposals could be used to start such negotiations. The conflicting parties should sit and seek an agreement without any preconditions, the minister stressed. The dialogue of political forces, including those on whom the prospects for calming the situation now depend should lead to the emergence of a new Libya. "This will be a new political system," Lavrov said. The minister stressed that some operations of the international coalition in Libya run counter to the UN Security Council resolutions. "Violations of the UN Security Council resolutions are too numerous there," Interfax quoted him as saying. Sometimes, the coalition forces deliver strikes on civilian facilities and diplomatic missions. The coalition should provide "exhaustive and timely reports" on its operations to the UN Security Council, Lavrov said. He added that the main principle of protecting civilians must not be used "to justify the actions which totally contradict international law and the UN Security Council resolution." As for the international contact group on Libya, Moscow does not plan to join this body, considering it "illegitimate in terms of international law." This unauthorized structure proclaimed itself a mechanism responsible for implementing the resolution, Lavrov noted. He also warned against external interference in Syrian affairs. The minister urged Syrian opposition not to repeat the Libyan scenario as this could provoke some external forces to resort to military interference. Russia is supporting a political dialogue in Syria as well. However, it is being slowed as some participants want "to draw external forces to support their actions," Lavrov explained. The events in Libya present "a great temptation" for some opposition leaders in the region to repeat a similar situation in the hope that the West will interfere. Although reforms in many countries in the Middle East and North Africa are long overdue, the problems should be solved "through dialogue and national reconciliation," the minister said.
You can share this story on social media: