Group of six should discuss lifting of Iran sanctions – Russian FM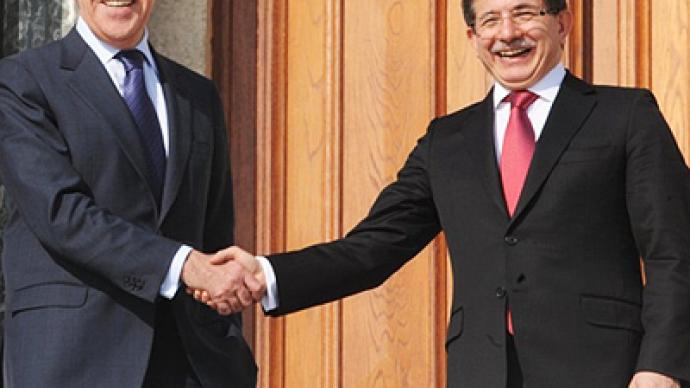 Russian Foreign Minister Sergey Lavrov has called unilateral sanctions against Iran "counterproductive" as the six powers prepare for talks with Tehran.
The talks between Iran and the group of six countries should focus on the Iranian nuclear issue, Lavrov said at a news conference in Istanbul on Thursday. But other issues, including prospects for lifting the sanctions should also be brought up as long as Iran cooperates more actively with the International Atomic Energy Agency (IAEA), he noted. The group of six powers includes China, France, Germany, Russia, the US and the UK. Their representatives meet on Friday with Iranian negotiators. Lavrov expressed hope that the proposed agenda will be accepted. According to the minister, the IAEA fuel swap offer is valid, and Moscow is waiting for Tehran's response. Vienna Group experts could also discuss the details of fuel deliveries to Iran, Lavrov said. Turkey, Brazil and Iran signed last year a declaration ensuring that Tehran sends 1,200 kilograms of its low-enriched uranium to Turkey. In exchange, Iran could receive 120 kilograms of high-enriched uranium from Turkey for a research reactor. At a news conference with Lavrov, Turkish Foreign Minister Ahmet Davutoglu said that if the declaration is fulfilled, "it will build up confidence." Lavrov described unilateral sanctions as counterproductive and stressed they "undermine efforts for a joint solution." His words could have been a response to a statement US Secretary of State Hillary Clinton made in an interview on Thursday. According to her, the US "may be proposing more unilateral sanctions."The Istanbul meeting between Tehran and the Sextet on January 21-22 may help resume permanent negotiations in that format, Iranian Deputy Foreign Minister Mohammad Mehdi Ahunzade said. Itar-Tass quoted him as saying that the talks would be a good opportunity to promote dialogue and achieve progress in the joint work. The atmosphere and the background of the meeting in Turkey may help continue negotiations on the nuclear program, he pointed out.
You can share this story on social media: