Russia's 'gay propaganda' bill fights discrimination - Lavrov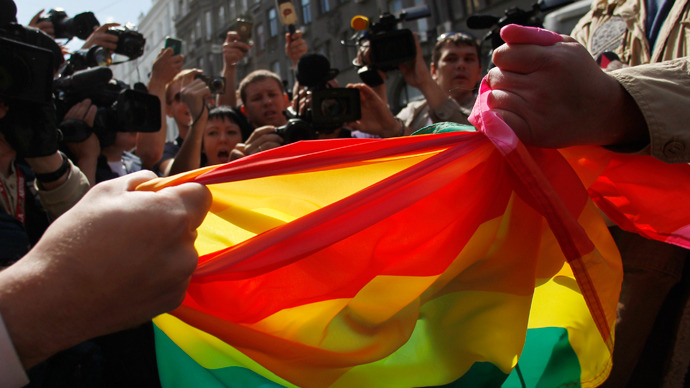 The Foreign Minister said Russia's draft law banning homosexual propaganda protects the rights of the majority from a group that wants to promote its own value system.
"We don't want reverse discrimination to occur: when one group of citizens has the right to aggressively forward their values, which differ from those of the majority of the population, and moreover imposing them on children," Lavrov said.
Russia's draft bill, which has already passed the lower chamber of the Russian parliament, is specifically designed to prevent any kind of discrimination, Lavrov said, noting that "we have no commitment to permit propaganda, which is very aggressive as a rule."
Homosexuals can go about their business freely and unpunished, and it fits within the framework of the obligations of all countries to forbid discrimination because of any given attribute, he added.

The Russian minister's comments were in response to complaints by Dutch Foreign Minister Franciscus Timmermans, who urged the State Duma not to impose a ban on homosexual propaganda because it could "breach fundamental rights and freedoms declared by international agreement."
According to Timmermans, Moscow said it would abide by international commitments and will wait to see what transpires, but he along with EU foreign affairs chief Catherine Ashton and other European ministers had asked the State Duma not to pass the law.
Lavrov responded that Russia has no law forbidding homosexual behavior between consenting adults, but it has a right to prohibit the proliferation of 'homosexual propaganda.'
The Russian minister based his comments on the fact that there is "no single universal or common European commitment to permit homosexual propaganda." The only criterion is the commitments undertaken by countries at universal or common European institutes, he said.
Sergey Lavrov said that Russia has the sovereign right to uphold its national traditions.
We cannot undertake such a commitment even theoretically because we (must consider the) moral values and the historical, cultural and religious traditions of our society, the minister added.
You can share this story on social media: