Latvian far right go after "disloyal" motorists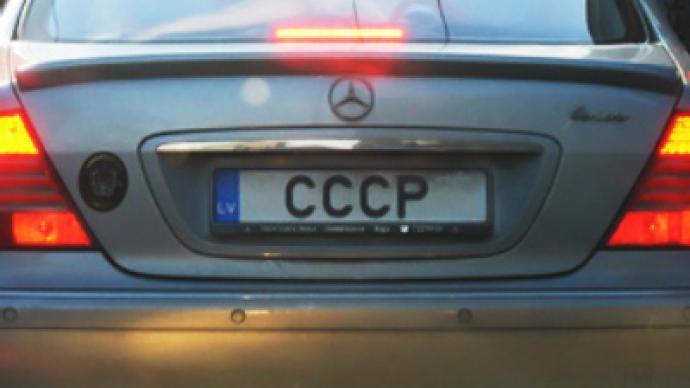 Latvian ultra-rightist have started another witch-hunt by threatening "disloyal car owners" who fix Russian symbols, like St. George Ribbon, or a Russian national emblem or colors on their vehicles.
A website registered in the US and still operational, http://www.latvietislatvija.com (Latvian in Latvia), has published a so-called "Okupantu autoparks," an "Occupants' car park," list of those who dared to decorate their cars with the Russian symbols, revealing personal data of these citizens.
The black list reveals personal information and the names of 118 persons, including their home addresses and car plate numbers.
The witch-hunt was organized not only in Latvia's capital Riga, but also throughout the country. Any car seen with the abovementioned symbols was photographed and put on that list. Some people from that list have already been blackmailed by e-mail. There is a risk of their cars being smashed or desecrated with paint, but the real concern is for affected children.
Latvian police says the website is out of Latvia's jurisdiction, but the very fact of publishing personal info, probably stolen from some governmental source, is illegal, so an investigation has been launched to find out and fine those guilty.
Most of the exposed "disloyal" cars are private, but in at least one case, when a driver of Renault Master belonging to Latvijas Pasts (Latvian Post) tied a St. George Ribbon to it, the end was bitter and he was fired immediately for "improper decoration of an operational vehicle'"– amid economic collapse in the country.
Latvian police sees no incitement of ethnic hatred in this case, so the real patriots of the country continue with their job openly, waiting in ambush for disloyal citizens and publishing personal info on them for public use. Needless to say, the names of the crusaders themselves remain in the shadows.
About 44% (up to 95% in certain regions of the country) of Latvia's 2.3 million population are Russian-speakers, and many of them still cannot get citizenship because of it.
You can share this story on social media: