Boxing star Klitschko asks Ukrainian president to free Tymoshenko
Published time: 9 Aug, 2011 14:30
Edited time: 9 Aug, 2011 19:21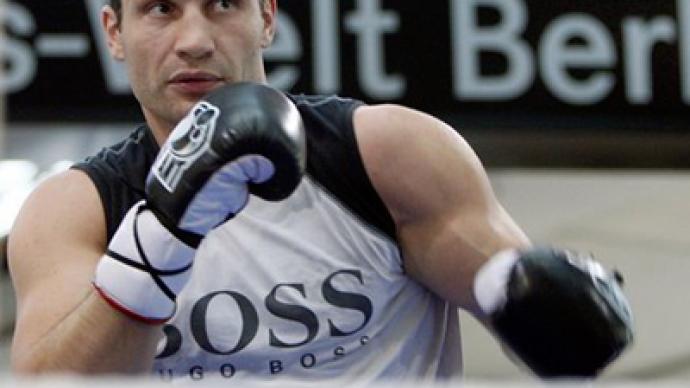 The world-famous boxer and head of the Udar party Vitaly Klitschko wants former Prime Minister Yulia Tymoshenko to be released from custody on his guarantee.
­The WBC heavyweight champion called on President Viktor Yanukovich on Tuesday to release the former prime minister from a pre-trial detention center. The court is Kiev is continuing to hear Tymoshenko's case, who has been charged with abuse of power while in office and for damaging the national economy when she signed a gas transit contract with Russia in 2009.

Klitschko, 40, believes the trial of Tymoshenko could damage Ukraine's image in the world arena and even lead to the international isolation of the country. "The first step on the path to restoring stability in the country and the confidence of the international community could be the release of Tymoshenko from custody," he stressed.  

The boxer and the head of the Udar (Punch) political party said he was ready to bail "this fragile" woman out on his guarantee. The selective use of the law may damage Ukraine's prospects for signing an agreement on association with the European Union, Klitschko believes. He said he would speak with the Ukrainian president and ask him to interfere.

After Tymoshenko's arrest last week, Klitschko put his training for a forthcoming bout with Polish boxer Tomasz Adamek on hold. He returned to Ukraine from Austria, explaining that "the real battle for democratic values" was taking place there. The boxer said he could not be a bystander when democracy "is now being destroyed" and the country may forget about the development of civil society.

Tymoshenko has always stressed all the charges against her and her political allies are politically motivated.

Meanwhile, the court refused to cancel Timoshenko's arrest as the lawyer had not produced information "about any new circumstances" that would justify such a change.

Klitschko is not the first public figure in Ukraine who opposed the arrest of the former prime minister. On Monday, the judge in the case refused to release Tymoshenko on the guarantee of Filaret, the head of the Ukrainian Orthodox Church that cut its ties with the Russian Orthodox Church and several clergymen of different faiths.