Kazakhstan joins post-Soviet security group's rapid reaction force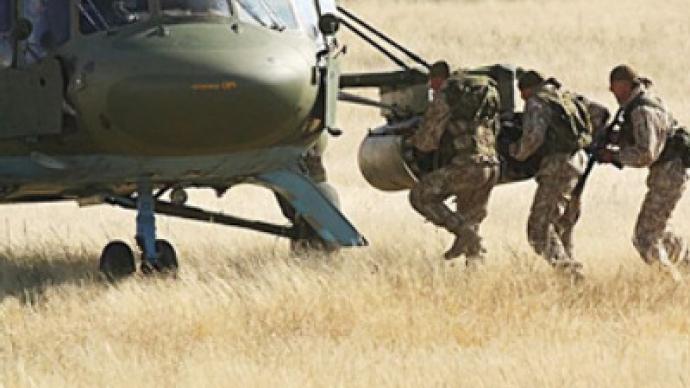 Kazakhstan has ratified an agreement on Thursday on the Collective Rapid Response Forces of the Collective Security Treaty Organization.
The force is designed to improve the security of CSTO members (Armenia, Belarus, Kazakhstan, Kyrgyzstan, Russia, Uzbekistan and Tajikistan) against existing and potential threats. It is to repel military aggression, conduct anti-terrorist operations, and fight drug trafficking, extremism and natural disasters. The members are to allocate military contingents and special forces, equipped with a modern army and military technologies.
Aleksandr Pikayev from the Committee of Scientists for Global Security (IMEMO) sees Kazakhstan's decision to ratify the document as a logical and expected move: "Kazakhstan was one of the initiators of the military alliance and is the second major player in this alliance after Russia."
Some observers, however, have criticized Kazakhstan's decision to join the Moscow-backed response force, citing the country's eagerness to cooperate with the US and the EU and its current presidency in the OSCE. Earlier in Washington, Kazakhstan's Foreign Minister Kanat Saudabayev pointed at the amendments his country has introduced to the legislation in 2008–2009, which were recommended by the OSCE. He also added that more changes will be implemented for Kazakhstan to meet international standards.
However, Pikayev thinks that there is no clash of interests, seeing Kazakhstan as one of Russia's strongest partners and mentioning the fact that it was Russia that lobbied Kazakhstan's presidency at the OSCE.
So far, six of the CSTO members have signed the agreement to join the collective forces. Uzbekistan is the only state which so far has refused to join the force, saying that it opposes Russia's stronger role in Central Asia.
Some analysts think, the formation of the Collective Forces changes the CSTO from a political alliance to a military-political alliance. Therefore, it is seen by many as Moscow's bid to counterbalance NATO. Russian President Dmitry Medvedev has also drawn parallels between the newly-created force and NATO: "The Collective Rapid Response Forces will be well-equipped and will function on par with those of NATO."
However, political analyst Artyom Malygin thinks that the creation of the CRRF doesn't make the CSTO NATO's rival: "The CSTO can be one of the bridges to Russia's cooperation with NATO, especially when it comes to cooperation on such issues as drug trafficking from Afghanistan, questions like Iraq, and the Middle East."
Others disagree: "The CSTO cannot even be compared to NATO. NATO is a powerful military machine, which has no intentions of cooperating and dealing with the CSTO," thinks Pikayev.
Meanwhile, military exercises by the newly created Collective Forces have already been held. In October 2009, Kazakhstan hosted a two-week-long exercise with more than 7,000 personnel from Armenia, Kazakhstan, Kyrgyzstan, Russia and Tajikistan. In Russia's security strategy recently approved by Dmitry Medvedev, the CSTO is seen as a "key mechanism to counter regional military challenges and threats."
Olga Masalkova, RT
You can share this story on social media: