Israeli PM really was on secret mission to Moscow – newspaper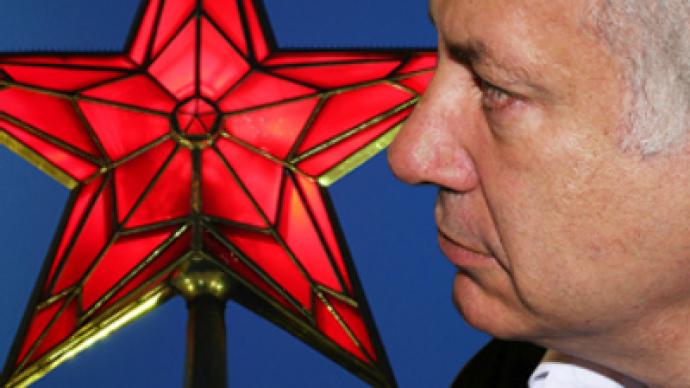 Russia's Kommersant business daily has shared insider information from an unnamed source in the Kremlin that Israeli PM Benjamin Netanyahu visited Moscow incognito to talk on Russia's arms contracts with Iran and Syria.
Benjamin Netanyahu's former advisor, Benny Briskin, told Kommersant that "If all major Israeli newspapers say that the visit took place, then it really did, and the high-ranking source is a person from the PM's inner circle."
Benny Briskin believes that such a backdoor trip by Israel's top official is plausible only in case of a real emergency or special circumstances – like intentions to strike preemptively on Iran for one.
Kommersant's unnamed source in Israel speculated that "this visit is exclusively connected with some sort of new critical information on Iran's nuclear program. Probably, Israel is getting ready for decisive action against Iran and Netanyahu decided to inform Russia about it."
Israeli journalists "lost" the country's PM last Monday. Accompanied by his military secretary Major General Meir Khalifi, Benjamin Netanyahu disappeared in the morning and re-appeared only 14 hours later, leaving local media at a complete loss.
Hezbollah's Al-Manar news agency took hold of a version that Netanyahu visited an unnamed neighboring Arab country that Israel does not have diplomatic relations with, to discuss normalizing the overall situation in the Middle East.
At first, Israeli officials stated that the PM was visiting Mossad headquarters, but later on, several media sources referred to a high-ranking official of the Israeli government who claimed that Netanyahu really did visit Moscow. The source, though, refused to tell whom exactly Israeli PM met in Russia.
Israeli media was quick to expose that the Israeli PM was on a secret mission to Moscow to talk about Russia's arms contracts with Iran and Syria or, more specifically, the possible delivery of air defense S-300 missile infrastructure to Iran.
The recent saga of the Arctic Sea bulk carrier, a vessel with a Russian crew, hijacked in the Baltic Sea, has sparked a conspiracy theory about Russia covertly delivering S-300 missile infrastructure to Iran.
The story about a ship with Russian missiles that went through the "NATO lakes" around Europe agitated lots of minds in Europe, though the fact that Russia practically has a common border with Iran by means of the inner Caspian Sea simply has not occurred to most of them.
Nevertheless, Israeli news agency Ynet even named the owner of the national Merhav Corporation, millionaire Yosef Maimon, as the person who allowed his private jet to be used by the prime minister for his secret trip to Moscow.
Russia's Foreign Ministry has no information about the Israeli prime minister visiting Russia, asserted the Ministry's spokesman Andrey Nesterenko.
"Yes, we have seen this information in several sources. They have certain differences, but that is all I can tell you. We do not have any further information," he said.
Who exactly met Benjamin Netanyahu in Moscow remains unknown. Dmitry Peskov, press secretary of the Russian Prime Minister Vladimir Putin, told Interfax news agency that he has no information about the alleged visit.
"Such a meeting was not scheduled in Prime Minister Vladimir Putin's timetable," he said.
The Israeli embassy in Moscow told Kommersant daily they have no idea about the visit.
You can share this story on social media: