"Iran has demonstrated its goodwill" – Iranian ambassador to Russia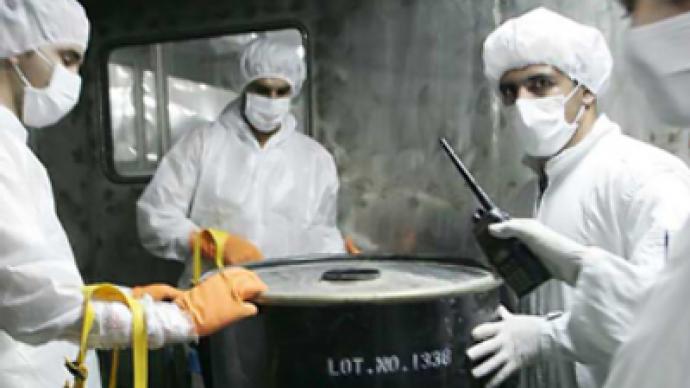 New sanctions against Iran may force Tehran to scrap the uranium swap deal, Iran's ambassador to Russia told a Moscow press conference.
"If new sanctions are imposed against Iran, it will be clear to the Iranian people that the international 'Six' has only malice and only follows political motives," Iranian Ambassador to Russia Mahmoud-Reza Sajjadi told the conference on Tuesday. "This will force us to reconsider the Tehran agreement."
The Iranian ambassador was referring to a trilateral deal hammered out between the leaders of Brazil, Turkey and Iran last week in Iran.
Brazilian President Luiz Inacio Lula da Silva, his Iranian counterpart Mahmoud Ahmadinejad, and Turkish Prime Minister Recep Tayyip Erdogan met in the Iranian capital to seal an agreement on the exchange of low-enriched uranium to fuel Tehran's scientific research reactor. The deal calls for Tehran to swap most of its 3.5%-enriched uranium with Turkey in exchange for 20%-enriched fuel for use in Iran's medical research reactor.
Iran's Foreign Ministry spokesman Ramin Mehmanparast said some 1,200 kilograms of Iran's low-enriched uranium will be swapped.
Tehran is hoping that by sealing a nuclear swap agreement with the leaders of Brazil and Turkey will be enough to offset the threat of sanctions by the United Nations. However, some Western governments are against the agreement, saying that Iran would still have enough uranium reserves to build a nuclear bomb.
They suspect the Islamic Republic of developing a nuclear weapons program under the guise of a civilian nuclear energy program and are demanding new sanctions following Iran's move to enrich uranium to 20%. Weapons-grade uranium is enriched to 90%.
The Iranian ambassador said that the Security Council should support the swap deal instead of threatening Iran with new sanctions.
"We believe that by this [deal] Iran has demonstrated its goodwill," Sadjadi said. "After all that lobbying by Brazil, Turkey and other countries, we believe that it makes no sense to talk about new sanctions."
The International Atomic Energy Agency (IAEA) said it received a letter, signed by Iran, Turkey and Brazil, which commits Iran to sending low-enriched uranium to Turkey in exchange for supplies of higher-grade uranium needed for a medical research reactor.
UN Secretary General Ban Ki-Moon said on Monday if the Iranian offer is approved by the Vienna-based UN nuclear watchdog, as well as the Iran Six, this could provide an opportunity for solving the increasingly worrisome standoff.
The US has said it will review Iran's proposal to ship enriched uranium to Turkey and plans to consult with France and Russia on the matter, the US State Department said on Monday.
"It is unclear if the letter truly offers anything new," State Department spokesman PJ Crowley said. "But we will study it closely, and we will respond formally through the IAEA in the next few days."
Sanction showdown
In April, the "Iran Six" – made up of Britain, China, France, Germany, Russia and the United States – began the text of a draft resolution to impose new sanctions on Iran over its controversial nuclear program.
Russia and China, who have the right to veto Security Council decisions, insist on resolving the Islamic Republic's nuclear issue through diplomatic channels, whereas Britain, France, Germany and the US have been pushing for harsher sanctions against the Islamic Republic.
John Bolton, former US ambassador to the UN, wrote on Tuesday in The Wall Street Journal about the "debilitating effects" that the Tehran agreement will have for endorsing new sanctions against Iran.
"To forestall the debilitating effects of the Brazil-Turkey deal," Bolton, a US Republican, wrote, "Secretary of State Hillary Clinton promptly circulated to other council members the draft of a sanctions resolution the five permanent members and Germany had spent months negotiating."
But according to Bolton, Clinton's effort was too little too late, because "the damage was done."
"Turkey announced that negotiations on sanctions should cease for 30 days and Brazil flatly proclaimed it would not even discuss the draft resolution."
The former UN ambassador, who is a senior fellow at the American Enterprise Institute, bemoaned the "wholly inadequate sanctions in the draft resolution" which does not "prohibit selling Iran air defense capabilities."
Now, Russia is free to deliver its sophisticated S-300 ground-to-air system, which, Bolton fearsmay "defeat a possible Israeli air attack on Iran's nuclear program and could readily be used against US planes if Iran later threatened US forces in the Persian Gulf."
It should also be mentioned that Rosoboronexport, Russia's international weapons maker, was released from unilateral American sanctions "as part of a desperate effort to get Moscow's support," Bolton added.
Rosoboronexport said on Monday it was satisfied with the lifting of the US sanctions, adding that "they were imposed groundlessly."
"Rosoboronexport has always complied and will continue to comply with international standards and obligations concerning arms exports. We viewed the imposition of sanctions on us as an act of unfair competition," Rosoboronexport spokesman Vyacheslav Davydenko told Interfax on Saturday.
"These were not the first sanctions. As in the previous cases, they were imposed groundlessly and did not have any significant effect on Russia's military-technological cooperation with foreign countries," Davydenko added.
In concluding his comments, Ambassador Mahmoud-Reza Sajjadi said that Russia would continue to receive preferential treatment in building Iranian nuclear plants in the future.
"In the opinion of the Iranian Atomic Energy Organization, Russia has an advantage over other countries in the construction of new nuclear power plants in Iran," the ambassador said. "The construction of the Bushehr nuclear power plants had a large influence on domestic [atomic energy] specialists despite the delays and misunderstandings," he said.
Evgeny Sukhoi contributed to this article
You can share this story on social media: