Human rights group gets go-ahead for rally, opposition leader fails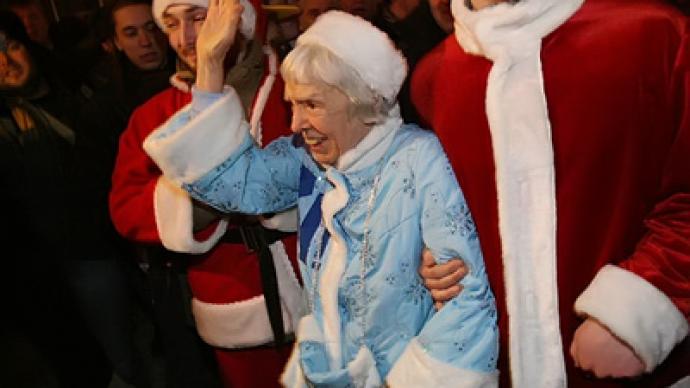 The Moscow Helsinki Group on human rights, led by Lyudmila Alekseeva, has got permission from the authorities to hold a rally on Triumfalnaya Square on December 31.
The gathering is in support of Article 31 of the Constitution which guarantees freedom of assembly.As well as Lyudmila Alekseeva, the rally is also organized by Lev Ponomarev, Oleg Orlov, opposition members Sergey Udaltsov, Roman Dobrokhotov and civil activist Evgenia Chirikova – known for her opposition to the controversial highway project through the Khimki Forest. The Other Russia opposition movement headed by Eduard Limonov, has not been granted permission for a rally.The Moscow Helsinki Group gathering is part of the so-called Strategy-31 program dating back to May 2009. This is a series of regular peaceful rallies on the last day of each 31-day month, in Moscow and across the country. Until October 2010, gatherings on Moscow's central Triumfalnaya Square did not get the go-ahead from the Mayor's Office for various reasons – be it construction work or previously planned rallies of other organizations. The October 31 rally was finally sanctioned by the authorities – new authorities, to be exact. On October 21 new mayor Sergey Sobyanin took office, replacing Yury Luzhkov, known for his strong dislike of mass gatherings. However, the number of allowed participants was cut from the requested 1,500 to 800 people. The permission was given despite the building of an underground parking, which is still underway. That became an apple of discord between Lyudmila Alekseeva and the leader of the Other Russia opposition movement Eduard Limonov, the initial organizer of Strategy-31. While the Moscow Helsinki Group agreed to the conditions, Eduard Limonov said he would not make any concessions. He then accused Alekseeva of "treason". Alekseeva responded later, on November 25, stating that their vision of Strategy-31 had become divided and they do not intend to organize more joint rallies.Triumfalnaya Square remains fenced off due to construction work. That is the reason why the authorities are only allowing 1,000 people for the December 31 gathering. The original request submitted by the activists was again for 1,500 participants. Alekseeva has said they have asked the authorities to remove the fence but the request has been declined so far. She added all security issues have been agreed.The human rights activist also said they will give Eduard Limonov and his supporters the floor if they come to the rally and behave "decently". Limonov stated he will still hold a separate rally, although unsanctioned.