'Putin illegitimate president' – rights activist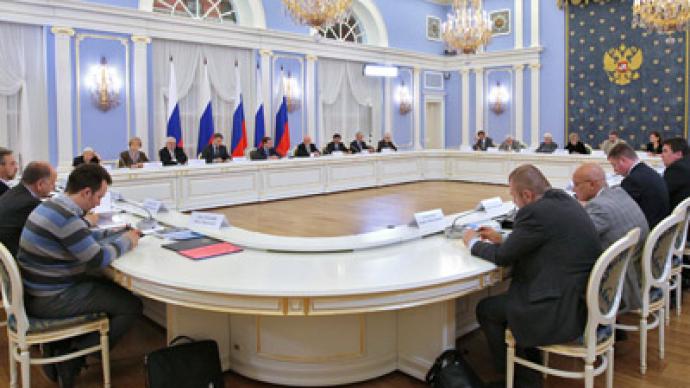 Several members of the Russian Presidential Council for Human Rights are planning to quit the body after Vladimir Putin's return to the Kremlin.
Political analyst Dmitry Oreshkin made the decision to leave the council after his report on election violations was removed from the agenda of the body's final meeting with the outgoing President Dmitry Medvedev on Saturday. The official pretext for the move was Medvedev's tight schedule, Oreshkin told Vedomosti daily. The rights activist, citing data provided by vote observers, stated that Putin got 50-52 per cent of votes as opposed to the official 63 per cent."I consider Putin an illegitimate president and I won't be able to work in his council," Oreshkin told the paper. The head of Transparency International Russia, Elena Panfilova announced her decision to quit during the Saturday meeting with the president. She said she remained the council member only because she promised the mother of Sergey Magnitsky – Hermitage Capital lawyer who died in a Moscow detention centre in 2009 – to investigate his death."Now I think I'll do a lot more with my civil activity in my current job," Panfilova told Kommersant daily on Wednesday.Another Council member, Svetlana Gannushkina – the chairwoman of the Civic Assistance organization that helps refugees – also said earlier she would leave her post in the body. In December last year, rights activist Irina Yasina and journalist Svetlana Sorokina left the HR Council in protest against alleged violations during the State Duma poll. Under the law, after the new head of state takes office, he is entitled to form all his councils from a scratch.The chairman of the Kremlin council, Mikhail Fedotov said he was ready to continue his work with Putin if he is invited to. He stressed though that if "outstanding people" – current members of the organization – "are replaced with some kind of ceremonial bystanders or those who attack human rights, it would be a completely different council.""And I wouldn't want to be its chairman," Fedotov told a media conference on Wednesday, cites RIA Novosti. Head of the Moscow Helsinki Group Lyudmila Alekseeva underlined that human rights activists' work involves close cooperation with the state authorities. For that reason the veteran rights activist in Russia intends to remain the member of the council.Current members of the body who will not be included in the newly formed one will form a public organization for the development of civil society, Alekseeva told journalists.
You can share this story on social media: