Hitler admirer fires up Israeli election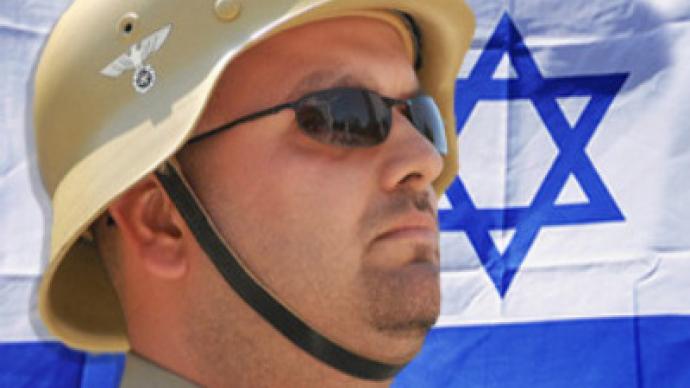 A politician in Israel has captured the public imagination by embracing not only Nazi-style extremism, but by publicly saying that Hitler was a genius.
Moshe Feiglin's right-wing views on the Palestinians have aroused a mixture of horror, curiosity and admiration in the Jewish state.
Feiglin moved from the fringe of Israeli politics – the lunatic fringe, some say – into realpolitik when he won 20th place in the Likud Party's list of legislative candidates in primaries this month.
The strong showing made it almost certain that he would make it into the Knesset in February's parliamentary elections.
His popularity derives from his extreme right-wing views. Although these are alien to Likud's more centrist position, they have galvanized some registered members of the party who are now voting for him en bloc.
Likud leader Benjamin Netanyahu, concerned that Feiglin could undermine the party's moderate image, has arranged for him to be moved down to 36th place on a technicality, making it doubtful he will receive a Knesset seat.
For columnist Amotz Asa-El, the primary achievement of Feiglin, whom he terms "a fire-spewing caricature of a fascist", has significance not because it signals the rise of fascism in Israel but because it reflects the deteriorating condition of Israeli politics in general, with declining levels of voter participation, frequent changes of government and the rise of non-entities in public office.
In this atmosphere, an extremist maverick like Feiglin was able to infiltrate a major party with the declared intention of taking it over – a goal dismissed by virtually all commentators as delusional. "Feiglin is the weed of an irrelevant extremism that flourishes in the vacuum left behind by the indifference of rational moderation," political observer Ari Shavit says.
Feiglin's remarks about Hitler came in an interview in 1995 in which he described the Nazi leader as "an unparalleled military genius". Although an Orthodox, kippa-wearing Jew, Feiglin also praised Hitler as a political leader and a cultured persona. "Hitler savored good music. He would paint. Germany received an exemplary regime, a proper justice system and public order. This was no bunch of thugs." Ten years later, Feiglin mitigated his remarks by saying that terming Hitler a military genius "doesn't mean that I admire him."
It is, however, contemporary affairs that make Feiglin's opinions of interest as a political player, namely his proposed Draconian policy towards the Palestinians. If he achieved power, he said in his blog, he would sever the supply of electricity and water by Israel to the Palestinian territories. Non-lethal ammunition, such as rubber bullets used by the security forces in riot control, would be replaced by live bullets. If an attack is carried out against an Israeli target from a Palestinian area, he proposed, Arab residents of the area would be deported and the area's infrastructure destroyed.
"There is no Palestinian people" wrote Feiglin, "and there never will be a Palestinian state. We shall offer them human rights without civil rights as long as they prove their loyalty and accept Jewish sovereignty. They will have to seek their right to self-determination in Arab states."
Feiglin declined to appeal his demotion on the Likud legislative list to the High Court of Justice as supporters urged, saying that to do so would mean recognizing the court's authority. "I have no faith in the current court system."
Netanyahu's fear that Feiglin would become a political albatross may be supported by polls published in recent days showing that Likud's previous large lead has declined since Feiglin emerged on the Likud Knesset list. Before the primaries, Likud was seen able to easily form a coalition government by winning 37 of the 120 Knesset seats versus 25 for Kadima led by Tzipi Livni. The latest poll shows them with 30 seats each.
Feiglin may represent only a fringe group, but it is one motivated by a potent mix of fierce nationalism and religious messianism. Any Israeli government will have to take the Feiglinists seriously and neutralize them if it intends to reach an accommodation with the Palestinians.
Abraham Rabinovich for RT
You can share this story on social media: