Prokhorov puts Khodorkovsky pardon on presidential agenda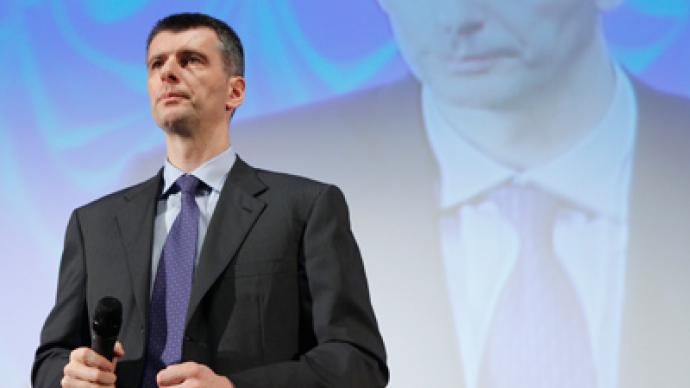 Russian billionaire Mikhail Prokhorov has said that if he is elected president in March, the first thing he will do is pardon former oil tycoon Mikhail Khodorkovsky, who is serving a prison sentence for tax evasion.
"The first decision will be a humanist one – I will pardon Khodorkovsky," Prokhorov told reporters at a Thursday press conference in Moscow. "The Yukos case is one of the most outstanding cases in Russia in recent years. Russian authorities charged the managers of the then-largest oil company in the country with a number of financial crimes. After this, Yukos went broke and its assets were passed to the state-owned company Rosneft," Prokhorov said. Russian Human Rights activists welcomed Prokhorov's initiative."This strengthens Prokhorov's positions in the eyes of democratically inclined voters and in my eyes as well," said Lyudmila Alekseyeva, the head of the Moscow Helsinki Group. However, Khodorkovsky's lawyer Yury Schmidt said that he would prefer a deserved early release and not "a royal favor". "Prokhorov is a mysterious figure to me," Schmidt added.Mikhail Khodorkovsky and his business partner Platon Lebedev were sentenced to eight years in prison in 2005. In late 2010 a court sentenced them to 14 years each for theft, embezzlement and money laundering. The sentenced was slightly eased a short time later, with Khodorkovsky due for release from prison in 2016. Russian law allows prisoners to plea for early release if they demonstrate good behavior and have served two thirds of their sentence.Apart from promising to release Khodorkovsky, Prokhorov said that he would pass land to those who work on it, and also promised to marry. Forty-six-year old Prokhorov is still a bachelor, and his playboy way of life is known both in Russia and abroad. "If my country and my election victory need it, I am ready to do it," Prokhorov said about marriage on Thursday.
You can share this story on social media: