Georgia's "warlike rhetoric" reason for concern - Medvedev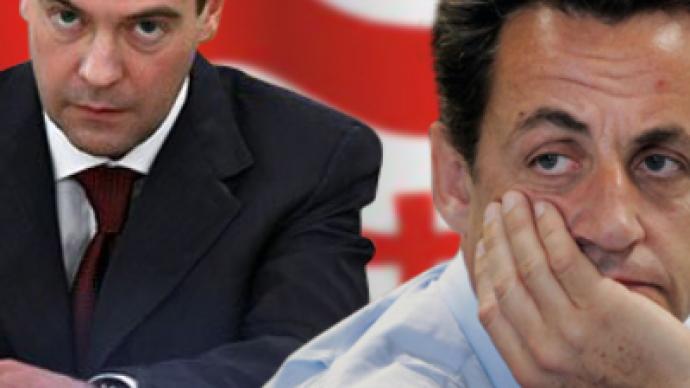 Georgia's actions in the Caucasus, including continuing threats and provocations, are causing serious concern, President Medvedev said in a statement to his French counterpart Nicolas Sarkozy.
The Russian president's comments appeared on Saturday, the first anniversary of last year's 5-day conflict in the Caucasus when Georgia initiated an attack on South Ossetia. The military offensive led to many deaths and casualties among the civil population, as well as the dispersion of thousands of civilians.
"Our serious concerns are caused by Georgia's actions," reads Medvedev's statement, according to the Kremlin press service. "From the continuing threats to use force to restore its "territorial integrity," and everyday warlike rhetoric, to the concentration of armed forces near the borders with South Ossetia and Abkhazia, or serious provocations in the border areas."
Medvedev stressed that it is necessary to sign, as soon as possible, binding agreements to suspend the use of force between Georgia, South Ossetia and Abkhazia.
"Only the creation of such a legal basis will help to prevent new violence outbreaks and recurrence of last year's tragedy," the president said.
The Russian leader also requested that the international community refrain from supplying weapons to Georgia for a long period of time.
Then, Medvedev specifically acknowledged the participation of the French President – who was then chairing the EU.
French president Nicolas Sarkozy's "efforts to stop the aggression unleashed by Saakashvili was effective," Medvedev said.
"In fact, the agreements [between the French and Russian presidents] remain the only "code of behavior" in this Trans Caucasian region," Medvedev's statement reads.
Last year, at the peak of the conflict, the French leader paid two visits to Moscow for talks that resulted in signing of the so-called Medvedev-Sarkozy plan.
Medvedev also stressed that Russia fulfilled its obligations under these agreements in October 2008, and made a few comments about the ongoing monitoring mission.
Overall, "we are satisfied with EU monitoring mission in Georgia," the Russian president said. However, Medvedev said he regrets that "we failed to agree upon conditions under which the OSCE's and UN's missions could continue their work in the region."
President Medvedev added that he believed there are chances to find "appropriate formulas to continue the activity of these crucial international institutions" in the region.
But he stressed that such a consensus should be agreed upon by South Ossetia, Abkhazia and Georgia.
You can share this story on social media: