FSB charges top terrorist with conspiracy to kill Putin – report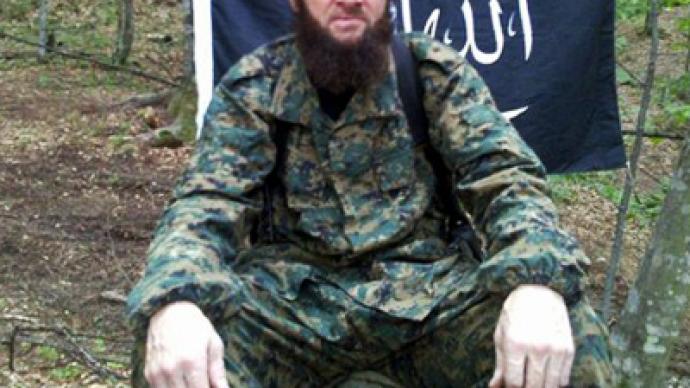 A leading Russian daily says the FSB has charged the country's most wanted terrorist Doku Umarov with a plot to kill president-elect Vladimir Putin, but the security service itself did not confirm the report.
Business newspaper Kommersant said the FSB ordered a criminal case against Umarov in connection with February's arrest of two men in Ukraine who had confessed they planned to murder Putin.The FSB's press service told RT that they had no information about the facts reported in the Kommersant article, however.Earlier this week, Putin's would-be-assassins in Ukraine had featured in another news report. Russia's Rosbalt news agency quoted its own unnamed source in the FSB as saying that the service had pressed charges in absentia against the two men suspected of conspiracy to kill president-elect Vladimir Putin.The source said a Russian court had charged Adam Osmayev and Ilya Pyanzin, currently in custody in Ukraine, with an attempt on a state official's life, illegal production of an explosive device, illegal possession of explosives and participation in an illegal armed formation. The court also ordered that the two suspects be held in pre-trial custody for two months upon their handover to Russia, Rosbalt quoted the source as saying. The FSB has not confirmed Rosbalt's report, either. Osmayev and Pyanzin were detained in Ukraine's Odessa in late February after a blast in an apartment block in the city. Both men confessed to Ukrainian police that they intended to assassinate Vladimir Putin, who was running for Russia's presidency at the time, with a roadside bomb. They said they were acting on the orders of Russia's most wanted terrorist Doku Umarov. Later, the men also confessed to preparing to kill the President of the Chechen Republic Ramzan Kadyrov with a bomb blast at a stadium. Russian security services discovered a cache with explosives near a road specified by one of the suspects. The confusing nature of the case is in part due to the fact that Russia and Ukraine's special services and courts have not yet elaborated a fixed procedure for dealing with such crimes and suspects. A Ukrainian court is currently considering the possibility of the suspects' handover to Russia, which requires readiness from Russia itself.
You can share this story on social media: