Terrorists lit European forest fires, eyes on WMDs – FSB chief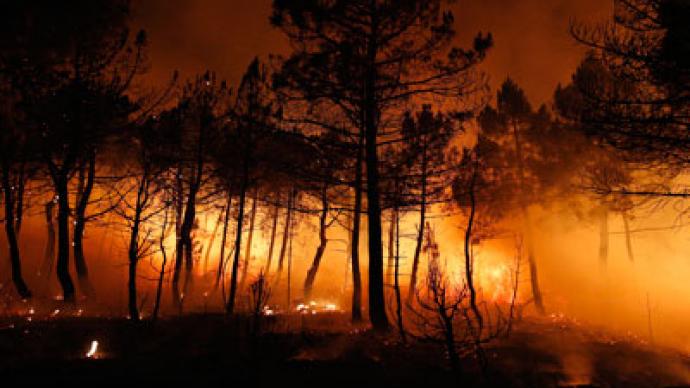 Russia's security chief has warned that international terrorism is changing and spreading its tactics, from setting fire to European forests to obtaining WMDs in Mid-East countries that suffer from internal crisis.
The threat of terrorist activities spreading all over the Middle East and North Africa is becoming of primary importance, Aleksandr Bortnikov warned. He added that the situation requires new approaches that could counter the terrorists' attempts to obtain weapons of mass destruction.In his speech before the conference of heads of security and law enforcement agencies from 66 foreign countries, the FSB director stressed that international terrorist organizations are skillfully using the internal political conflicts in the separate countries of the region.Bortnikov also noted that despite law enforcers' efforts, international terrorism is still expanding as it uses modern information technology and new media for recruitment and communications. "Broad use of modern information and communication technology makes the process of population radicalization a mass one," he said.The Russian security chief noted that terrorists pay special attention to development of internet resources containing materials that allow self-teaching on all basics of terrorist activities – from undercover life to production of homemade explosive devices, including those with toxic components and also home production of biological weapons, such as plague and anthrax. Bortnikov told his foreign colleagues that FSB possesses information that Al-Qaeda was complicit in recent forest fires in Europe as part of the terrorists' "strategy of a thousand cuts."He added that extremist sites contained detailed instructions of waging the "forest jihad" and stressed that such a method had proved itself effective as it inflicted both physical and moral damage, needed little training or investment and it was extremely hard for police to find and apprehend the arsonists.Those who succeed in proving themselves as worthy members of terrorist cells are sent to training camps and centers and then deployed to hotspots so that they can attain combat experience, Bortnikov said. "That is why the FSB pays special attention to the fact that residents of Russia's North Caucasus republics participate in anti-government groups in Afghanistan, Pakistan and Syria, where they are sent by the Imarat Kavkaz [Caucasian Emirate] terrorist network" he added. The director also mentioned the channels where terrorists and extremists get the means for their activities. He said that the merger of terrorist cells with organized criminal groups poses a special threat and law enforcers must pay more attention to it. Such cooperation is typical for such criminal spheres as drug racketeering, illegal arms trade, kidnapping and credit fraud. Bortnikov also told his foreign colleagues that the members of North Caucasus terrorist groups often move to Europe and settle there, joining criminal gangs and sending a large share of their incomes back to Russia in order to support the extremist and terrorist structures.He urged foreign security officials to join forces in fighting the terrorist threat. In particular, he said that the current cooperation is based on mutual trust and often it is curbed by national legislative limitations. "Changing the national laws in the direction of facilitating the exchange of important information and coordination of joint operations – this is what should become a target of special services' lobbyism in order to make international cooperation more effective," he said. He also noted that the special services should jointly develop an approach to countering the extremist ideology and building up the people's trust in counterterrorist agencies. The Russian security chief also told his foreign colleagues that in his view, it was necessary to find opportunities and realize the conditions to "neutralize" the leaders of terrorist organizations in various regions of the world."Activities by more than thirty emissaries and active functionaries of international terrorist organizations, which were aimed at destabilizing the situation in Vladivostok and the Primorye Territory, were thwarted during preparations for the APEC summit and during the APEC summit in Vladivostok," Bortnikov told the gathering.The conference of the heads of foreign special services, security bodies and law enforcement agencies that are partners of Russia's FSB opened in Moscow for the 11th time. One hundred delegations from 66 countries take part in the security forum. Russian President Vladimir Putin sent an address to the meeting in which he wished all participants success and promised all-round support to fight against terrorism.