From port to port: Kremlin's naval bases abroad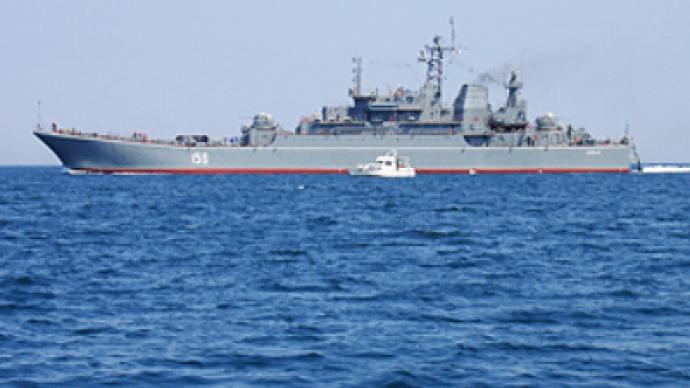 The Navy Headquarters announced on Friday the list of countries where Russia will have naval bases in several years time.
However, the Deputy Chief of Russia's Armed Forces Staff, Anatoly Nogovitsyn, considers that it's too early to name concrete locations.
"The political decision on this matter has been made. Bases will settle down on Sokorta Island (Yemen), in Tartus (Syria) and Tripoli (Libya). Now it's very difficult to say when these bases will appear in these countries, but in several years time it undoubtedly will happen. From both the economic and the technical military point of view, there is no other way to solve the problem of our Navy's regular presence in distant sea areas for the protection of Russia's national interests", the representative of the Russian Navy Headquarters told ITAR-TASS.
The General Armed Forces Staff completely supported the Navy Headquarters' offer about the necessity to develop the fleet infrastructure outside the Russian maritime belt.
However, Nogovitsyn in his interview to RIA Novosti declared that "it's not yet time to speak about the geography of the future bases. Corresponding negotiations with foreign governments are underway".
The General Staff has already announced their position on this matter:
"We support the position of the Navy Headquarters completely. This problem should be solved, and she will solve it together with the government", Nogovitsyn said.
Naval bases demand huge investments and onerous infrastructure in terms of costs, size and time. Nogovitsyn said this question is out of the Navy's competence and was therefore correctly put before the General Armed Forces Staff.
The high costs of warship bases abroad caused the withdrawal of Russian ships from the Vietnamese port Cam Ranh at the beginning of 2000.
After visits of the Russian warships to Venezuela and Cuba there were reports about the possible creation of Russian naval bases in these countries. However, the Russian authorities have denied this, having pointed out that the Venezuelan and Cuban military infrastructure can be used if necessary.
Currently, negotiations about the creation of naval bases for Russian ships in Abkhazia are in progress.
Russia is also discussing the possibility of setting up a repair base for its ships in the Syrian port of Tartus. Currently, a floating Black Sea Fleet repair station is located there.
Fact box: Cam Ranh naval base
Under the agreement between Moscow and Hanoi in 1981 the Russian fleet received on rental terms two large moorings for ships and submarines; 30 coastal warehouses with all necessary infrastructure; a runway for all types of planes.
Cam Ranh played a key role in the Russian Navy's plans as it was the only base to provide Russian fighting ships a presence in the Indian Ocean and Persian Gulf area.
The base was liquidated in 2002, because from 2004 the annual rent would have been roughly $US 300 million. Before 2004 Russia used to have this naval base for free.
You can share this story on social media: