Former Russian agriculture minister summoned as witness in major embezzlement case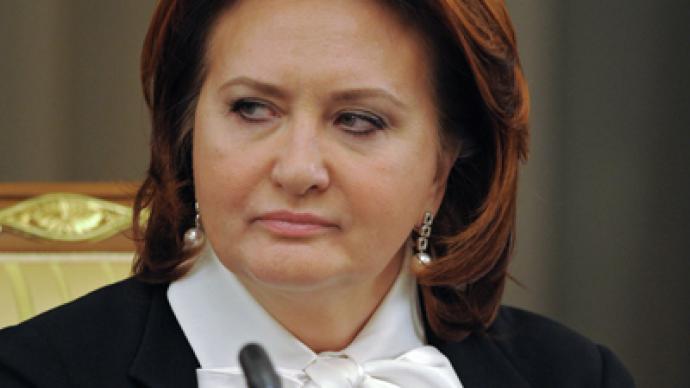 The Russian Interior Ministry says investigators have summoned former agriculture minister Yelena Skrynnik for questioning in a large-scale embezzlement case within the Rosagroleasing company. The state owned company leases agricultural machinery.
According to investigators, Rosagroleasing entered several contracts with companies founded by Oleg Donskikh, a former head of the agriculture department in Lipetsk Region and a former director of Rosagroleasing's branch in the Central Federal District. Donskikh used his connections in company management to secured state funding for distilleries and cattle farms, but then stole and laundered the money. Police estimate the fraud cost the Russian government 600 million roubles or about $20 million.Donskikh has been charged with embezzlement in absentia and remains on a federal wanted list. The Interior Ministry claims that two more people – directors of commercial companies in the Lipetsk Region – were complicit in the scheme, but no details were given on their current status. Yelena Skrynnik was the General Director of the Rosagroleasing company from late 2001 till late 2008. During this period the Russian media reported alleged embezzlement in the company, and in early 2009 the Russian Audit Chamber released a report suggesting that Rosagroleasing could be a part of a fraud ring. However, Skrynnik faced no sanctions and was promoted to the Minister of Agriculture post where she remained until May 2012. After her resignation the media brought back the subject of the alleged Rosagroleasing affair and in November the Interior Ministry said that the ex-minister had become a witness in the case.Russia 1 television channel aired a program on the case which claimed that from 2001 till 2009 a total of 39 billion roubles ($1.3 billion) was stolen from Rosagroleasing and that the fraudsters were sending money to a British company founded by Skrynnik and a Russian company controlled by her brother. These claims have not been officially confirmed.Following the allegations Skrynnik gave an interview explaining her position. The ex-minister called the Russia 1 report a slander and accused it of incompetence saying that the journalists were deliberately confusing debts and losses and adding that charges of fraud must be proved. In the same interview she said she had been questioned once over the case by the Investigative Committee – Russian law enforcement agency for especially important crimes, not connected with the Interior Ministry – and had already fully explained her position.
You can share this story on social media: