With Fidel we speak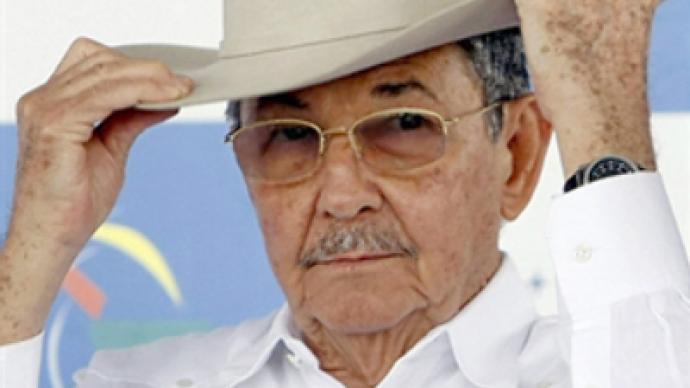 Raul Castro is in Moscow for his first official visit as Cuban leader. The two countries were close during the Soviet era, but relations turned sour in the mid-eighties.
The last official visit of a Cuban leader to Russia took place some 24 years ago, when Fidel Castro came to Moscow to take part in the Communist Party's congress.Fidel visited Russia many times, most notably spending some 45 days traveling throughout the country, with news television crews following his every move.
Politics: brothers hug
Raul Castro is hardly an alien in Russia himself. He was in Moscow back in 1985 to attend funeral services for the Communist Party's secretary general Konstantin Chernenko.Though what was accomplished during his current visit has not yet been made public, both Moscow and Havana are looking forward to nothing less than this being a historical visit.The signing of a number of documents is expected by Cuba's council of Ministers and Vice President Ricardo Cabrisas, who is also a co-chairman of the Inter-Government Russian-Cuban Commission on economic and science cooperation (IGRCC).His co-chairman, Russia's Deputy Prime Minister Igor Sechin, in turn believes "there is a serious basis for developing multidirectional cooperation" between the two countries.It's no coincidence that Castro will stay in the Russian capital for almost a week – from January 28 to February 4, which is quite unusual for visits by top officials.Then again, what has ever been normal in Russo-Cuban relations?
History: 25 anos de soledad
The ups were high and downs were low in those relations over the years.It was U.S. President Dwight D. Eisenhower, whose refusal to see Fidel Castro following the Cuban revolution created a key Soviet ally in the Western Hemisphere.Anastas Mikoyan first set his foot on the distant island of the Caribbean in 1960 and returned urging the Soviet government to support Cuba.When the U.S. imposed an economic embargo on Cuba, Nikita Khrushchev followed Mikoyan's advice and soon, along with vital Soviet fuel in exchange for Cuban sugar, Soviet rockets set sail to Cuba, launching what would later become known as the Cuban Missile Crisis of 1962.Though in the beginning the USSR looked on Cuba as only a 'Plan B' ally, Fidel Castro proved himself a man of principle, rather than a 'political prostitute'. Acting in accordance with Catholic morals, he followed the ancient Roman principle of Semper Idem (always the same). He chose Russia and stuck with it for half of a century, while many other potential Soviet allies of the XX century (Turkey, Egypt) eventually forgot their socialist inclinations.Thanks to the Castro family, relations between the two countries survived a 25-year-long stand-off.Fidel Castro never betrayed Russia, but neither had he done so to his socialist ideals either. Thus he never accepted Mikhail Gorbachev's democratic reforms, and relations between the two states cooled.
Economy: Cuban survivors
Throughout its years of economic turmoil Russia abandoned its friend in the Caribbean all by itself, but Cuba turned out to be a survivor.As Sechin sees it, Cuba has managed to overcome a very tough U.S. embargo and become one of leaders of the region. Indeed with a GDP growth rate of 5.3% in 2008, Cuba is well ahead of countries like Mexico (2%), Colombia (3.8%) or Bolivia (4.8%).Since his appointment in February 2008, Raul Castro has made some democratic reforms of his own: Cuban citizens are now allowed to stay in the same hotels as foreigners; and to use mobile phones, computers and DVD-players. Also, Castro is credited for a 20% pensions increase and removing the cap on workers' salaries.Each now having liberal economies, the two countries had no trouble finding common ground during President Medvedev's visit to Cuba in November 2008. Now things are on the mend, and both countries are interested in returning to their past partnership."The Russian economy and the Cuban economy are complimentary to each other," explains Russian diplomat Nikolay Leonov, who met both Fidel and Raul Castro six yearsbefore the Cuban revolution of 1959 and became a personal friend of both. "Cuban tropical conditions provide a lot Russia cannot, and Cuba needs Russian markets to export its goods."That is one reason behind the $US 400 million-strong trade, which is rarely found between any two countries separated by an ocean. And there will be more, as areas of potential cooperation include energy, mining (mainly nickel), banking, pharmacology, health care, agriculture, information and education.According to the Cuban ambassador to Russia, the countries could also sign an energy agreement during Raul Castro's visit to Moscow.
Military: an area of priority
As Russian warships docked in Havana in December, Russia's President Medvedev paid avisit to both Raul and Fidel Castro in November (at the moment the last living beacon of world's communism devotes all his time on reviewing his written legacy and doesn't expect to live for another four years), Cuba declared its readiness to work with Russia in every sphere.No cooperation bonds two countries together as military cooperation. According to Viktor Ozerov, head of the State Duma's Committee of Defence and Security, Cuba aims to modernise its military, which is largely based on old Soviet arms and machinery.Following Prime-Minister Mikhail Fradkov's visit to Cuba in 2006, Russia approved a $US 335 million credit deal which would serve as payment for three Ilyushin 96 and three Tupolev 204 aircraft to Cuba along with various other machinery.
Transport: cars for credit
Moreover, Russia is planning to give Cuba another $US 20 million in credit which, according to PM Vladimir Putin, will mainly be used for purchasing Russian goods, particularly cars. A contract was signed to supply 2,000 Ladas to Cuba.Russia's automobile giant, AvtoVAZ, is even considering launching its own manufacturing facility in Cuba. This was revealed following an official visit in mid-January by Cuban Transport Minister Jorge Luis Sierra Cruz to AvtoVAZ's automobile factory in Togliatti.Some 96,000 Ladas are operating in Cuba today, according to AvtoVAZ CEO Boris Alyoshin, and he believes there is a potential to increase that number."The purpose of our meetings with Cuban partners is to have good sales and establish a joint company for distribution and service in Cuba. Considering our interest in South American markets, I can't rule out Cuba as a potential manufacturing site," Alyoshin said.
Culture/sport: surprisingly strong connection
For two countries that are some 10,000 kilometres away from each other, Russia and Cuba have a mysterious cultural connection.One should be not surprised to find verses of the traditional Russian folk song Ochi Chyornye in a Cuban song Mandinga (magic) recorded by virtuoso pianist and Santa Clara native Rubén González. One might say this is a result of a political connection, but González started his career back in 1930s when Cuba was a U.S. colony. His songs have hardly changed since.Joint cultural initiatives were launched first in the 1960-1970s and haven't stopped today.In October 2008, the audience of Moscow's Conservatoire had to endure a Castro-style 40-minute-long speech by Cuban ambassador Juan Valdés Figueroa before enjoying a magical performance by Cuban pianist Frank Fernández who is, incidentally, a Moscow Conservatoire graduate. The concert kicked off the Week of Cuba in Moscow.In sports, Russian and Cuban amateur boxers regularly meet in single matches in Moscow. Amateur boxing is an area where the two countries dominate in world rankings.Another area of mutual interest is yachting.Russians are the fans here, while Cuba provides the environment. More than 40,000 Russians visited Cuba in 2008 for recreational activities, of which yachting is an undisputed leader.Ruben Zarbabyan, RT
You can share this story on social media: