Medvedev spoke as future PM – experts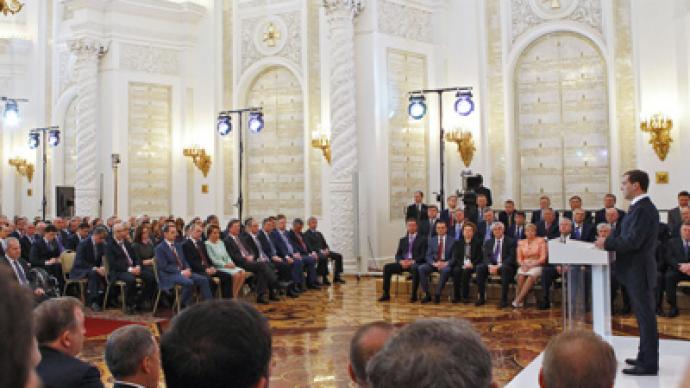 Dmitry Medvedev's speech at the State Council shows he is positioning himself as future number two in Russia rather than "a lame duck," believes political analyst Evgeny Minchenko.
Medvedev demonstrated he is not leaving after President-elect Vladimir Putin takes office, "but staying as the second most influential person in the country," Minchenko, Director of the International Institute for Political Expertise told Interfax. Putin had said that if he won the March 4 poll, he would nominate Medvedev for Prime Minister, who expressed readiness to accept the offer.A day after the inauguration, on May 8, the State Duma is expected to discuss the candidates for the post of Chairman of the government. The lower house speaker, Sergey Naryshkin is confident the Medvedev-Putin tandem will continue to work together. On Tuesday, the outgoing President addressed the session of the State Council to sum up the results of his four years in office and propose a plan for future development. Vice-Prime Minister Dmitry Rogozin observed the ideas voiced by Medvedev are pretty similar to those Putin outlined in a series presidential campaign articles. Rogozin, Moscow's former envoy to NATO, said he personally would join Medvedev's team in government if he is invited. The head of Russia's Gazprom, Aleksey Miller believes the tandem would "serve as a basement for further steady development of the country." Speaking to journalists he noted the Medvedev-Putin tandem's work in recent years was really useful to Russia's economy. Meanwhile, Chairman of the liberal Yabloko party Sergey Mitrokhin noted that as Prime Minister Medvedev would have fewer chances to develop political freedoms in Russia. "As President he hasn't done too much for that," he noted. When speaking about his future initiatives, Medvedev "forgot that he would only be a Premier," Mitrokhin said, adding that Putin's stance on many issues is "clearly different."The General Director for the Center for Political Information Aleksey Mukhin agreed with other experts that Medvedev's address on Tuesday "was a speech of future PM." However, in the analyst's opinion, Medvedev is worried whether his appointment to the new post would go smoothly. "I think he believes that during his presidency he managed to find a common language with opposition parties, including in parliament. However, he is not completely sure that these parties wouldn't hamper his appointment as Prime Minister for the sake of their party interests," Mukhin told RIA Novosti.
You can share this story on social media: