State Duma bans title "president" for regional heads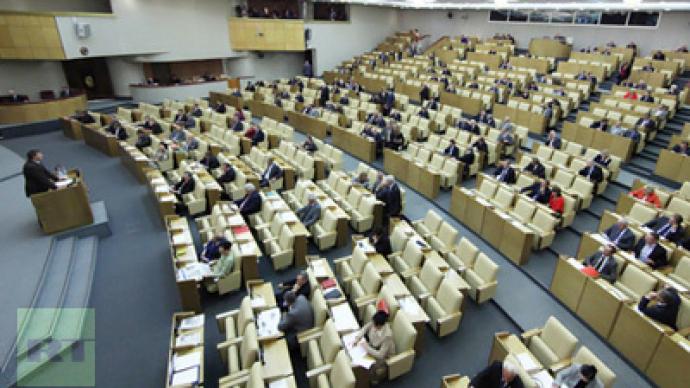 The lower house of the Russian parliament has adopted in the first reading a bill that bans the title of "president" for regional heads.
The legislation has been submitted by a group of State Duma deputies and members of the Federation Council, the upper house.
According to the new bill, the title "president" will not be used in titles of national republics' heads, but regions will be able to choose the name according to their historic traditions. Such titles as "the head" or "the chairman of government" may be used in new titles.
Regional parliaments are being given a five-year transitional period to select new titles for their leaders.
The heads of Russian regions are usually called governors. However, some heads of 21 national republics, including Bashkortostan, Tatarstan, Chuvashia, Ingushetia have the title of president. "Chairmen of government" head Tuva and Khakasia, while "heads of republics" rule in Karelia, Altay, Mordovia, Komi and Kalmykia.
Chechen leader Ramzan Kadyrov was the first regional head to abandon the title of president. There must be only one president in Russia, Kadyrov said, adding that "the parade of regional presidents should be stopped."
A month ago, the Chechen parliament unanimously voted for a constitutional bill renaming the president as "Head of the Chechen Republic." On Monday, Russia's presidential envoy in the North Caucasus Federal District Aleksandr Khloponin handed over to Kadyrov a new certificate investing him as the republic's head.
President Dmitry Medvedev said in August that republics and other subjects of the federation should choose the titles for their heads themselves, adding that the names may be different.
Heads of some North Caucasus republics, including Kabardino-Balkaria and Karachayevo-Cherkessia have supported Kadyrov's initiative, but no regional leaders have changed the names of their titles so far. The parliament of Buryatia even voted recently against the renaming, although the republic's President Vyacheslav Nagovitsyn had supported Kadyrov's proposal.
Some politicians and analysts believe that all regional parliaments must also have one name. Noviye Izvestia daily quoted Aleksandr Orlov, the general director of the Agency of Political and Economic Communications, as saying: "Reluctance of some regional heads to change titles is explained by their unwillingness to abandon symbols of sovereignty, even in a verbal form."
Sergey Borisov, RT
­