Do the crime, do the time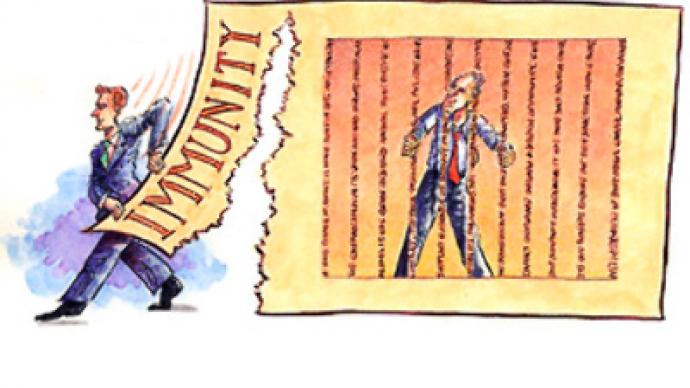 An increasing number of 'untouchable' officials are finding themselves in court in what's seen as a victory in the battle against corruption.
Criminal cases against judges, prosecutors, politicians and lawyers tripled in Russia in 2008.

In the past 12 months, 11,000 criminal cases were launched against officials provided with legal immunity, Rossiyskaya gazeta reported on Friday, referring to the Investigative Committee at the Public Prosecutor's Office.
In total, 1442 officials faced charges with 575 of them already convicted.
According to the statistics, state deputies run afoul of the law most often among the list of 'untouchables'.
Four thousand deputies of all ranks and from all regions were put on trial in 2008. The most widespread charges were embezzlement of state property, illegal business activity, and illegal credits.
The reputation of investigators took a hit too. Two hundred of them were convicted of falsification of evidence, extortion, bribes and even embezzlement.
Over 130 lawyers were tried over the course of the year, mostly charged with fraud, collusion and coercion of witnesses.
The number of crooked judges brought to book has doubled compared with 2007. Criminal cases have been launched against 29 of them, five have been sentenced. Most of the charges relate to unfair decisions, corruption and official forgery.
The Investigative Committee says bringing 'untouchable' officials to trial is a hard business. In order to charge a Deputy of the State Duma or of the Federation Council the investigation must have the permission of these institutions. If it's a judge, a corresponding decision of the qualification committee of the chamber must be received.
You can share this story on social media: