No pain, no gain: Big defense spending to continue, says Medvedev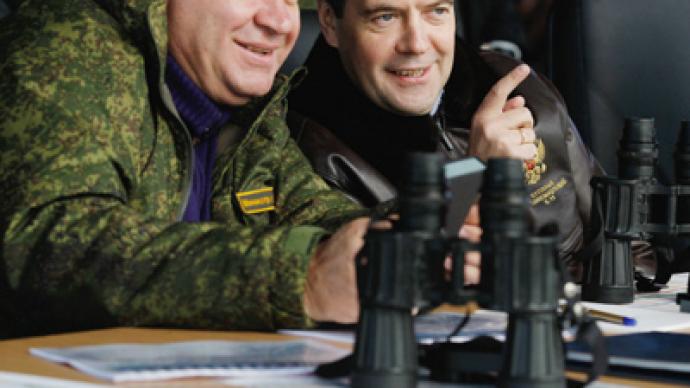 During a visit to a major military exercise, President Dmitry Medvedev said that Russia's military spending will remain at high levels and that any state official who has a different opinion should find another job.
"We cannot live without military spending, and this must be the type of spending worthy of the Russian Federation. Not some banana republic but the Russian Federation – a very large country, a permanent member of the UN Security Council that possesses nuclear weapons," Medvedev said on Tuesday while visiting a training range in the Chelyabinsk Region in the Urals where the Center-2011 military training are taking place.The president told the military top brass that "the expenses for the military, for new weapons, for salaries for the personnel, for their housing and normal households will always be a top priority for the state.""It cannot be any other way," the Russian leader continued. "Those who disagree with this must work somewhere else. This is an imperative."Medvedev added that sometimes Russia's ongoing military reform is obstructed not only by political opponents, but also by civil servants who think that the money should be spent in different volumes and for different spheres of life.The statement came one day after Medvedev fired Russian Finance Minister and Deputy Prime Minister Aleksey Kudrin, who has repeatedly and harshly criticized the president's decision to increase defense and social spending in the budget. On Monday, Medvedev demanded that Kudrin submit his resignation after Kudrin commented that he would not continue in his present capacity if Medvedev becomes Prime Minister in 2012. Kudrin worked as the finance minister since 2007 and some observers considered him a possible candidate for the premiership. Those predictions were smashed, however, as Vladimir Putin himself submitted a letter on Kudrin's resignation to President Medvedev on Monday. Kudrin's resignation came as a surprise to Russian political circles and there was no immediate report on his replacement. Vladimir Putin's spokesman Dmitry Peskov said on Tuesday morning that he was not aware of any candidacies for the post, but added that Kudrin must have had some deputies, so he would be replaced. Political experts suggested that Kudrin could be replaced by Dmitry Medvedev's aide Arkady Dvorkovich, deputy finance minister Tatiana Nesterenko, the Central Bank chairman Sergey Ignatyev and even Defense Minister Anatoly Serdyukov, who used to be the head of the Federal Tax Service.
You can share this story on social media: