It's official: election race begins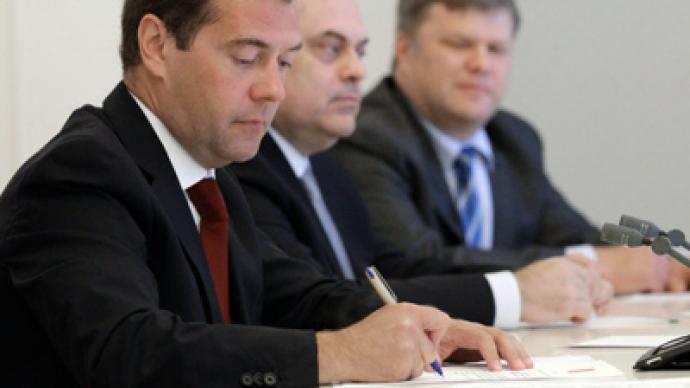 Russian President Dmitry Medvedev has announced December 4 as the date for the State Duma poll, thus officially kicking off the parliamentary election campaign.
At a meeting on Monday with leaders from seven registered political parties, the president said that he had signed a decree on the 2011 lower house elections. The document comes into force immediately upon being officially published. Medvedev demanded that political rivals avoid any extremist or nationalist calls during the election campaign, which he deemed to be unacceptable. He stressed it is important not only to be able to win fairly, but to have the ability to lose gracefully as well."What should definitely be excluded during the election campaign are any attempts to stir up national or inter-ethnic hatred. It is totally unacceptable. The same goes for any calls to illegal action," he said during the meeting in Sochi, cites Interfax. The president added that any such actions would be immediately dealt with and those behind them would be punished.Medvedev also said that the 6th State Duma should maximally reflect people's political preferences. He pointed out that election law has been significantly changed lately as Russia seeks to improve its political system. The president expressed hope that the amendments created "additional guarantees for a fair political competition". According to the president, in recent years Russia has managed "to increase the quality of [its] democracy," which is more modern now. However, that does not mean that "we have done absolutely everything," he added. Medvedev observed that opinions on the matter always vary. While some politicians state that the modifications are only "cosmetic", and do not go far enough, others believe that it would have been better to leave things as they were."We should strive for a more up-to-date, and perfect model of democracy. That is what the task of the leadership and political parties is," he said. "I hope that the State Duma elections will optimally serve this purpose."Medvedev also said that by 2015 all the polling stations in Russia will be equipped with electronic voting systems which would help to avoid even "a hypothetical" chance for ballot rigging. "Frankly, it could have been done earlier, if it was not for some financial difficulties," Medvedev noted. However, some 5,000 voting stations throughout the state will get new equipment by December 4 this year, when politicians will be battling for 450 seats in the parliaments. All in all, about 100,000 polling stations will be opened in Russia and abroad. Today's gathering is the first of its kind. Normally the president meets only with the leaders of the four political parties represented in the State Duma: United Russia, the Liberal-Democrats, the Communist Party, and Fair Russia. Only once, in June 2009, did Medvedev hold a meeting with the three smaller political parties – those without seats in Parliament: Yabloko (Apple), Patriots of Russia and the Right Cause. This time all seven registered parties got together in Bocharov Ruchei, the presidential summer residence on the Black Sea.
You can share this story on social media: