The dead season: Baghdad returns to climate of fear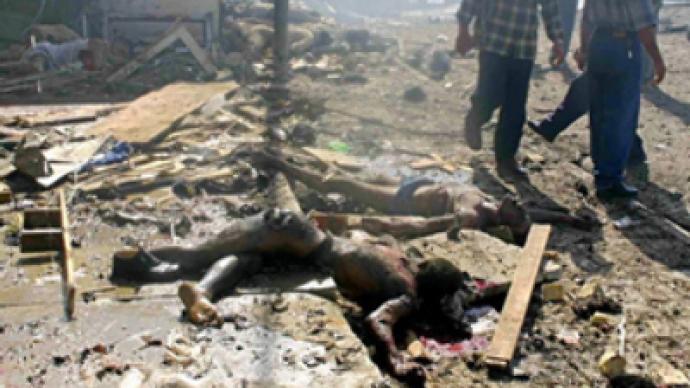 At least 118 people have been killed and 200 wounded in the center of the Iraqi capital, Baghdad, by a coordinated series of car bombs, returning fear to the populace.
One of the explosions hit Shorja Market, the capital's most popular shopping district that was the scene of much sectarian bloodshed in the past.
The dozens of injured from that blast were taken to Al-Kindi Teaching Hospital in Baghdad's Nahda neighbourhood.
Elsewhere, three bomb-rigged cars were detonated in rapid succession in the center of the capital.
Those attacks occurred near government buildings: the Labor Ministry, a court complex near the Iraqi-protected Green Zone and the new site of the Finance Ministry, whose previous building was destroyed in August by insurgents.
The attacks come as Iraqi authorities are preparing to announce the date for next year's parliamentary elections, an event that militants of various colors will predictably use to discredit the pro-Western government of Prime Minister Nouri al-Maliki.
More importantly, perhaps, the brazen attacks showed the ability of militant forces to strike high-profile targets in the heart of Baghdad at a time when US forces are planning a "draw down" of troops by next summer.
The attacks marked the most serious spate of violence in Baghdad since twin car bombs on October 25 struck outside Baghdad administration offices, which left 155 people dead – the deadliest day in Iraq for the past two years.
Baghdad residents, who are witnessing an increase in violence, fear a new season of bloodshed with the approach of parliamentary elections.
On Monday, at least eight people – mostly children – died in a school bombing in the capital.
An earlier blast on Tuesday targeted a police patrol in the southern part of Baghdad, killing at least four people and injuring five others.
In August, suicide bombers hit the Finance and Foreign ministries, killing more than 100 people.
Iraqi national security adviser Mowaffaq al-Rubaie blamed Al-Qaeda militants for the recent attacks.
Speaking on state-owned Iraq radio, al-Rubaie said their aim was to destabilize the country ahead of general elections tentatively scheduled for February.
"Al-Qaeda activity has been on the rise in Baghdad recently," the Iraqi security adviser said.
"Their goal is to show the government is unable to protect its people and also to keep people from going to ballot boxes."
MAJOR ATTACKS IN IRAQ
• Mar 2004: 171 killed in bombings in Baghdad and Karbala
• Nov 2006: 202 killed in series of blasts in Baghdad
• Mar 2007: 152 killed in bombing in Talafar
• Apr 2007: 191 killed in car bombing in Baghdad
• Aug 2007: More than 500 killed in attacks on towns near Sinjar
• Oct 2009: 155 killed in dual truck bomb attacks in Baghdad
Although Iraqi government figures have shown that violence has fallen over the past 18 months, the recent trend is not encouraging.
In October, coordinated attacks killed at least 155 people and wounded hundreds in Baghdad.
Sources in Baghdad say that, despite occasional large-scale bombings, militants continue to stage small-scale attacks against "soft targets," including places of worship, marketplaces and even schools.
Iraqi authorities say security has been tightened ahead of February's elections.
Locals fear return to violence
In a feature story last May in The Long War Journal (which advertises itself as being "dedicated to providing original and accurate reporting and analysis of the Global War on Terror"), it was reported that the Shorja Market, "the most famous market in Iraq," was experiencing a new sense of calm thanks to a vigilant neighborhood watch initiative organized between Baghdad locals and US troops.
Thanks to the efforts of the Al Sadria Sons of Iraq, or neighborhood watch, "vendors and shoppers pack Shorja's streets during the day, and a vibrant nightlife continues well past dusk," the journal reported.
"The market is located in the heart of downtown Baghdad, and was the scene of some of the war's most spectacular bombings and sectarian violence in 2006 and 2007. Security has vastly improved in the last seven months. The positive change is credited to the 'surge' of American forces, the development of the Iraqi security forces, and especially the efforts of the Sons of Iraq."
"The Al Sadria branch of the neighborhood watch is composed of about 250 members who are paid by and coordinate with American units," the article continues. "The branch is responsible for a series of predominantly Shia neighborhoods in central Baghdad that include part of the Shorja Market."
The article then underlines that the night watch group was not partial to sectarian differences, specifically between Sunni and Shia adherents.
"Though leader Faris Abdul-Hassan refers to his group as "the first Shia Awakening" against criminals and terrorists, he refuses to hire anyone with sectarian allegiances."
Indeed, Shorja Market was offered as proof that US and Iraqi efforts to bring back some normalcy to the Baghdad streets was beginning to pay off dividends. But after this latest series of setbacks, the dream of progress in Iraq is being questioned. Some analysts fear this could lead to a rethink of US military strategy in Iraq, similar to what is happening in Afghanistan, where US President Barack Obama just ordered a call-up of 30,000 fresh troops to battle a recent surge in Taliban activity.
Read also: Capturing Osama Bin Laden is the last thing that Americans want
You can share this story on social media: