CSTO to examine NATO experience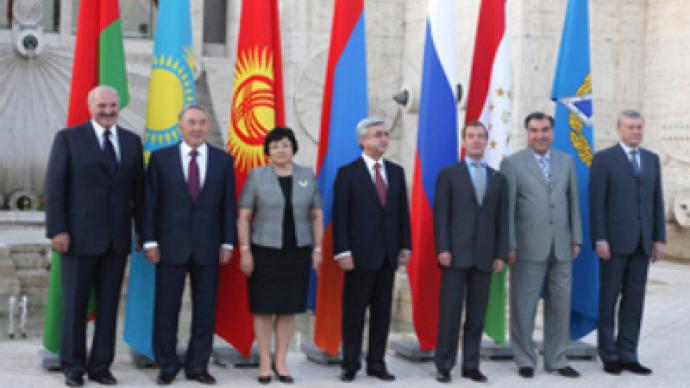 The Collective Security Treaty Organization (CSTO) members have agreed to reform the organization making it more efficient in crises prevention and addressing situations like the recent violence in Kyrgyzstan.
The CSTO member-states' leaders announced the decision following an informal summit which was held at the Armenian capital of Yerevan on Friday.
"All of us have agreed that lessons learned from the events in Kyrgyzstan prompt us to make the [crisis response] mechanism more efficient," President Dmitry Medvedev said addressing the media after the gathering.
He said that the proposals on amendments to the CSTO charter documents will be drafted by December this year, when the official summit of the organization is due to be held in Moscow. This will be done to create more efficient institutions, "perhaps with broader powers," Medvedev noted.
"Indeed, such decisions are made by consensus. But, nevertheless, everyone understands that in some cases the organization should act faster and more efficiently," he said.
The leaders have come to a common conclusion that they should carefully examine the experience of organizations with longer history – such as NATO, the EU and the UN. "I hope the CSTO secretariat will sum it up and offer a report for an assessment," Medvedev said.
The CSTO member states are Russia, Armenia, Belarus, Kazakhstan, Kyrgyzstan, Tajikistan and Uzbekistan.
You can share this story on social media: