'Russian protests could lead to calls for NATO intervention'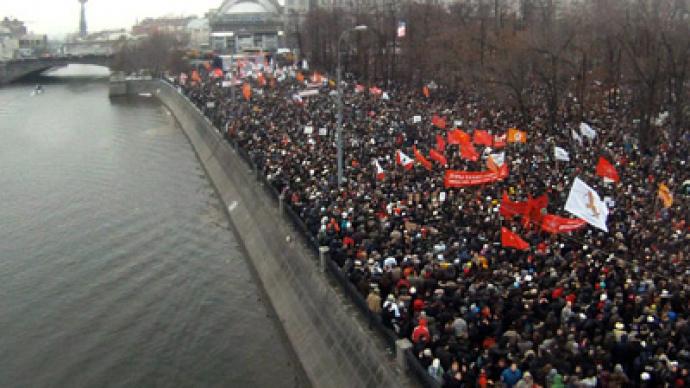 The head of Russia's top court has said in an article that Russia's election protest leaders and participants are a minority, which has little right to decide on the nation's fate and future.
In the lengthy article published in the Thursday issue of the Rossiiskaya Gazeta daily, the Chairman of the Constitutional Court of the Russian Federation, Valeriy Zorkin, said that current events could even lead to an unlikely scenario such as Russian fringe opposition inviting NATO special forces to install "Libyan-style statehood" in the country. Zorkin also writes that it makes him deeply upset when he sees that members of society attempted to completely wipe away all of Russia's achievements on the road to full-fledged democracy.Opening his article, Zorkin blasts that part of the international community that used the extremely ambiguous UN resolution on Libya to violently overthrow the regime in that country with the help of mercenaries and terrorists from all over the world. The foreign nations that toppled the Libyan government also tested the mechanism of justifying the violation of international law in regard of a sovereign state through statements by leading politicians that the government in that country lacked legitimacy. "At present, the same thing is taking place in Syria, and where it will happen tomorrow?" Zorkin writes.He claims that those who launch protests in Russia are questioning the legitimacy of all branches of power in the country – the legislature, executive and courts, and warns that this could lead to calls for foreign nations to intervene, destroying the country's national sovereignty.The head of the Constitutional Court also writes that the so-called "creative class" that forms the backbone of Russian protesters has monopolized the right to decide on the country's main political issues, and considers the rest of the population unworthy of the right to make choices.He said that the suggestions to choose new political leaders via internet voting, or even via a simple collective decision by the "creative class", run absolutely against the principles of democracy and the general rule of law.Zorkin admitted that the Russian state system still needs improvements, but wrote that any changes should be made strictly by lawful methods. To discuss this, he suggested forming public committees that would include opposition, authorities and ordinary citizens, like in some South American countries, or even nationwide forums.
You can share this story on social media: