Condoleezza Rice praises Russian Silicon Valley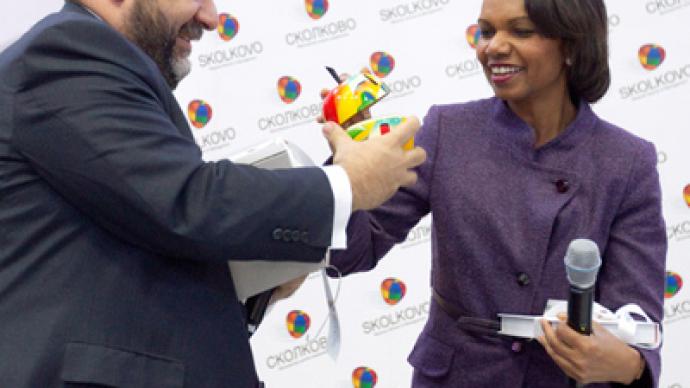 Former US Secretary of State, Condoleezza Rice has said she was impressed by Russia's Skolkovo project, which has the potential for innovation development in the country as well as the world.
Rice, a Professor of Political Economy at Stanford University, arrived in Moscow leading a group of 40 American students to take part in a roundtable conference on innovation. As part of the program, she visited a business-school at Skolkovo – a hi-tech business hub being constructed on the outskirts of Moscow. Also known as the Russian Silicon Valley, the Skolkovo project was initiated by President Dmitry Medvedev, known for his keen interest in modern technologies. After visiting the business school, Rice told reporters she was impressed with it, as well as with the Skolkovo project on the whole.According to the American politician, the project represents Russia's adherence to the use of the country's human potential for the development of innovations and economic growth. And not only for the Russian economy, but for the global economy, too, she added. The former Secretary of State noted that Russia is a developing market. However, this market has a great influence on the world economy. Rice stated that Russia is becoming a country where innovations and economics based on knowledge serve as a foundation for a powerful state, cited RIA Novosti. During her meeting with Russian business-school students, she spoke about different paths that people take to succeed in life – both financially and as personalities. Rice pointed out the huge difference between money that comes from creative activities as opposed to wealth from corruption. As an example, she referred to American billionaire Bill Gates, co-founder and Chairman of Microsoft Corporation. She observed that the businessman not only significantly changed the computer industry, but also made many people rich.Condoleezza Rice declined to comment on political issues such as the situation in Libya saying that she was in Skolkovo to talk discuss innovations. Following the launch of the project, it has already been visited by several American top politicians, including US Vice President Joe Biden, who was in Skolkovo earlier in March. In October last year, then California Governor Arnold Schwarzenegger visited the future hi-tech center as the head of a delegation of venture capitalists from the Silicon Valley in the US.
You can share this story on social media: