Communists to vote against Medvedev as PM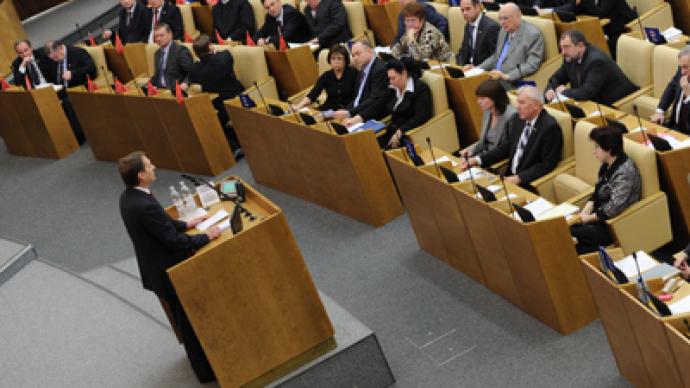 The Russian Communist party (KPRF) is set to vote against Dmitry Medvedev's candidacy for the post of prime minister.
On May 8, a day after Vladimir Putin's presidential inauguration, the lower house, the State Duma, will decide on who will replace him as the head of government.
Several months ago, incumbent Prime Minister Putin said that if he won the presidential poll he would nominate Medvedev for the post in the White House. Medvedev accepted the offer.
Meanwhile, the KPRF is likely to vote against Medvedev, Izvestia daily discovered. A final decision on the matter will be made by the Presidium of the of the party's Central Committee, senior KPRF member Ivan Melnikov told the paper.
It is not just a question about the future premier, he noted. "We consider voting 'against' wider, as a motion of no confidence on a policy that's been pursued in the country for over 10 years, as part of Communist Party's lobbying for an alternative course," Melnikov said.
Another source in the party told the daily that the Communists are not going to change their mind even if a KPRF member is offered a post in the government or appointed a regional governor.
The Fair Russia party is split on the issue, MP Gennady Gudkov said. The decision will be made after Medvedev – as a candidate for the premier's post – holds consultations with the Duma parties.
"If he states that he will head United Russia, I see no point in supporting him," Gudkov pointed out. However, if Medvedev suggests creating a coalition government, Fair Russia may give the green light to his candidacy.
Earlier though, Fair Russia's leader Sergey Mironov expressed the opinion that his party fellows "will be inclined not to support" Medvedev's appointment since "no good comes from so-called reshuffles."