Church insists reform only valid with popular support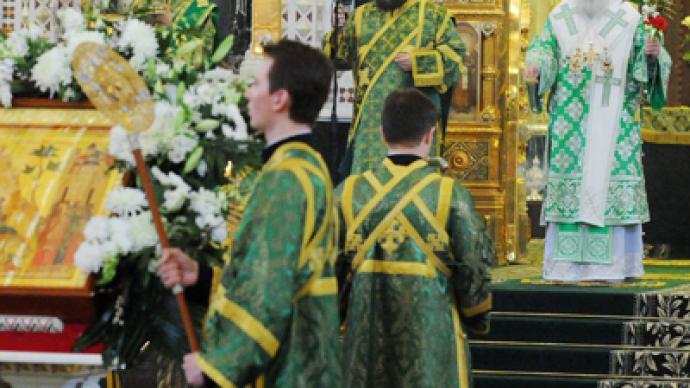 A top Russian Orthodox cleric has said that the Church supports a strong Russian state, but only if it exists in unity with the people and with all traditional faiths.
"All changes made without the people's will, without understanding on the people's part, without heeding the people's advice, are morally illegitimate. Policy introduced without the people's understanding and agreement is morally illegitimate, this must be clearly said now to those trying to make the people happy without the people's own participation," head of the Department for Relations between the Church and the Society of the Holy Synod Vsevolod Chaplin told representatives of the World Russian People's Council- an international forum founded and led by the Russian Orthodox Church for discussing the future of the country and its place in global politics and culture.Chaplin said most of the forum's members support a strong state. This, he stressed, does not mean that the people must always be led, always following instructions from above, especially if these are instructions from the so-called elite which, he noted, has not been elected and is accountable to no one, be it in the information, economic, expert or political area. Chaplin also insisted that the people must have the deciding role in all state affairs, including social policy, education, mass media and culture. The cleric paid special attention to what he called the "resurrection of morals", and to the people's role in this process. "Over the past 20 years, the changes suggested in these areas were often in direct opposition to the people's will, to their way of life and mentality, their soul, without which Russia simply cannot exist," the church official stated, adding that "we should not make Russia live by the alien rules that we are always using in our game"."We have our own rules – for ourselves and for the world, and we should do our best to live by these rules, remembering that when we lived by these rules before, we were winning," Chaplin said. Chaplin called on forum participants to remain vigilant, even in the current stable situation, stressing that existing contradictions within society will not disappear by themselves and are already affecting life in Russia.
You can share this story on social media: