Church, activists at odds over bill on insults to believers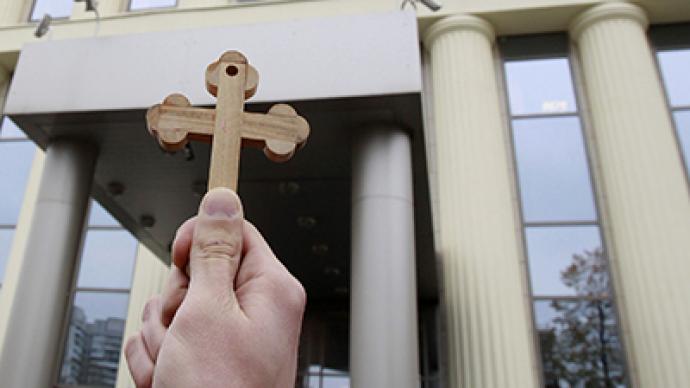 The Public Chamber's resolution on the draft bill on protection of believers' feelings "does not reflect the community's opinion," a senior cleric of the Russian Orthodox Church has claimed.
The resolution ignores the necessity to introduce criminal responsibility for desecration of the "revered objects, signs and emblems of worldview," as well as tightening of responsibility for insulting the believers' feelings, reads the letter to the Public Chamber by Vsevolod Chaplin, the head of the Church and society relations department of the Moscow Patriarchy. Chaplin called upon the members of the chamber not to vote for the current draft of the resolution and to create a special commission in order to thoroughly rework the document.The reply from the Church official came after the Public Chamber criticized the bill for suggesting introducing criminal responsibility for "public insults to rites and ceremonies of the religious organizations preaching the religions that are inseparable part of the historical heritage of the peoples of the Russian Federation. The activists noted that the current Russian law had no definition of the inseparable part of historical heritage and this allowed discrimination of a certain group of citizens. Additionally, the term "religious beliefs and feelings" lacks precise definition, the resolution reads. In general, the Public Chamber supported the very idea of the bill, but stressed that it needs corrections.Chaplin countered in his letter that the Russian Law on Freedom of Conscience and Religious Unions mentions Christianity, Islam, Buddhism and Judaism as religions that comprise an inseparable part of historical heritage. He said that the equality in basic rights of religious unions did not contradict to "various degree of respect to different religious traditions and different levels of support and protection."The cleric claimed that the term "insult to religious feelings" needs no additional definition as it is now used widely and commonly, along with "national strife" and others.The bill introducing criminal responsibility for insults to religious feelings was submitted to the Lower House in late September. The bill was backed jointly by all four parliamentary factions and chances of its approval are very high.In its current form the bill suggests to punish those who insult religious feelings of Russian citizens with up to three years in prison, fines of up to 300,000 rubles (under $10,000) or by up to 200 hours of correctional labor.Desecration of holy objects carries tougher punishment of up to five years in prison. The move came after a string of scandals which the Church calls a prepared and orchestrated attack. The best known is the "punk prayer" by the Pussy Riot band in the main cathedral of Moscow. Others included media reports of clergy's lush lifestyle and criticism of the church's attempts to regulate secular issues, in particular school programs.