Abortions are like the Holocaust – Church official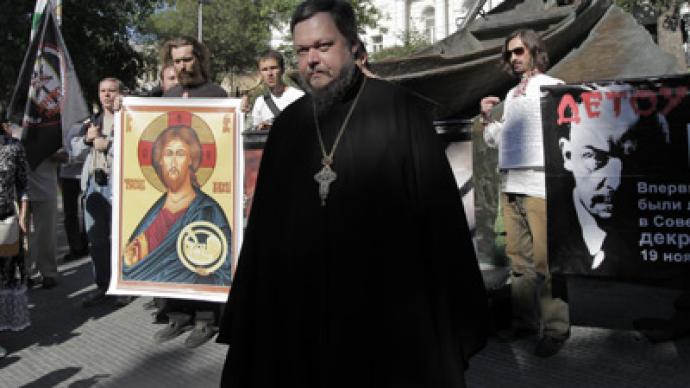 Archpriest Vsevolod Chaplin, the Russian Orthodox Church spokesman, has compared abortions to the Holocaust and expressed hope they will become 'morally unacceptable' in Russia.
"Abortions are the most terrible Holocaust in the history of humanity. They have killed more people than all world wars," Chaplin said, as cited by RIA Novosti. On Sunday, the Archpriest led a rally and a prayer against abortions and gay propaganda. About 70 people took part in the event in the capital's downtown. Holding Christian icons, and placards with slogans like "Stop killing children," or "Moscow is not Sodom," the participants demanded a nationwide ban of both 'sins'. "I hope we will live in a country where the propaganda of homosexuality to children and teenagers will be impossible," Chaplin stated. A rally similar to the one in Moscow was also held in Kazan, the capital of the Republic of Tatarstan. Even though the number of abortions in Russia have halved since 1991, it still remains very high: over 1.2 million annually according to official statistics. Pro-life activists claim the figure is much higher.
You can share this story on social media: