China gets lost in statistics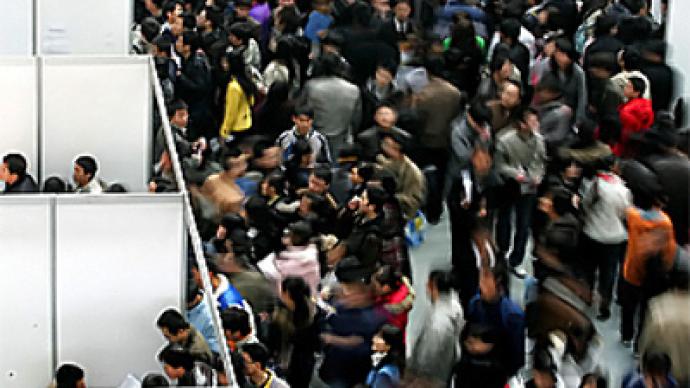 It seems that reports coming from China over the past ten years are doubtful. Can China really sustain its economic growth? Chinese statistics are often falsified. Thus, a 4-percent decrease in electricity consumption ma
In the last ten years of boisterous economic growth in China, the increase in the VAT for manufactured goods has been proportionate to the amount of energy consumed. However, this link is now broken, and this is something that Western experts are drawing their attention to.
According to Beijing's official statistics, the VAT for manufactured goods in China grew by 7%-8% in March-April 2009, while electric energy consumption dropped by 4%.
In May, according to the latest figures provided by the State Grid Corporation of China (SGCC), the country produced 289.7 billion kilowatt/hours of electric energy, which is a drop of 3.54% compared to the same period last year (minus 3.55% in April). In May, electricity consumption increased in the cities of Beijing, Tianjin and Tangshan, the provinces of Anhoi, Tsiansi, Sichuan and Heiluntsian as well as the Xinjian-Uigur and the Tibetan Autonomous Regions. At the same time, electric energy consumption continues falling in coastal areas, including the Gansu, Shandun and Zhejiang provinces and the city of Shanghai. In the provinces of Shansi, Tsinhai and the Ningxia-Hui Autonomous Region and Inner Mongolia, electric energy consumption has fallen in the double digits.
So, there's an obvious decrease in electric energy output even while the authorities have been reporting China's industrial successes. There is no explanation for this discrepancy. The more so because the China Electricity Council, CEC, has stopped publishing information about the amounts of electricity consumed.
Earlier, the Chinese leadership set an ambitious goal to increase the GDP by 8% in 2009. However, the Wall Street Journal writes that gaps and discrepancies in economic statistics are raising suspicions that the real situation in the Chinese economy differs significantly from the official picture.
Similar suggestions have been made in the recent International Energy Agency "World Oil Market" report. It says that, according to statistics provided by Beijing, the GDP growth in China in the first quarter of 2009 reached 6.1% while oil demand dropped by 3.5%. Simultaneously, electric energy demand fell by exactly the same amount.
However, Sergei Sanakoyev, the head of the governing board of the Russian-Chinese centre for trade and economic cooperation, told BFM.ru that the information provided by the Chinese authorities could be trusted.
"According to our information, there's production growth in China at the moment. Electric energy is certainly a vital indicator, but a seasonal factor – energy consumption usually drops in spring and summer – and this should also be taken into consideration just as are the measures which China is taking to support its economy,'" Sanakoyev went on to say.

However, decreasing energy consumption is registered from year to year. That is why the seasonal factor in such a comparison is minimal. Be that as it may, but according to Sanakoyev China is implementing regional projects and is expanding its infrastructure. Therefore, China's economic development continues and the Chinese GDP is not going to shrink.
"By our assessments, the Chinese GDP will grow at least by 7% this year," Sanakoyev said.
An independent Chinese expert, Mr. Wan, holds the opposite view. "These statistics are really suspicious, and it's not the first time authorities are falsifying figures. The explanation is that foreign investments are very important for China and any negative information may scare investors away,' Wan told BFM.ru.
He recalled that even prior to the crisis, major foreign banks had sold shares of several leading Chinese enterprises at the Shanghai stock exchange. 'This is evidence of their foresight that nothing good is in store for them in China, and Australian mining companies have recently turned down Chinese investments,' Mr. Wan went on to say.
But, in fact, statements made by Chinese leaders indicate recognition that the situation in Chinese industry is far from simple. Shao Nin, the deputy chief for control and management of state property under the Chinese State Council, said in his speech at the forum on state property in cities last week, that from January-April of this year a synchronized reduction of revenues and profits of state-run enterprises had been recorded in China.
The government official explained that in the conditions of the global economic crisis, a considerable drop in demand in the world market had hit not only Chinese exporting companies but also enterprises producing goods for domestic consumption. A situation when supply is exceeding demand has aggravated the problem of excessive production capacities in a majority of Chinese industries.
According to Nin, during the first four months of 2009, revenues and profits of enterprises subordinate to the central government dropped by 9.2% and 36%, respectively. The revenues and profits of local state enterprises and government holdings also decreased by 8.4% and 58.1%, respectively.
China's Deputy Minister of Commerce, Zhong Shan, said last Wednesday that China's foreign trade was facing unprecedented challenges. Its negative growth in the first six months of this year has become inevitable, and the situation in the second half of 2009 leaves much to be desired.
It is known that China's exports dropped by 20.5% from year to year in January-April 2009 to reach 337.42 billion U.S. dollars, the imports went down by 28.7% to 261.99 billion U.S. dollars (prices for basic imported raw materials also dropped noticeably – for example, the oil prices over the given period dropped by almost 60%).
Problems in external markets have impaired indicators in the banking sector and stimulated unemployment growth. According to the latest statistical reports of the Chinese Committee for Control and Management in the banking sector, late last year the balance of credits in yuans issued by banking and financial institutions to China's small and mid-size enterprises reached 10.3 trillion yuans (an equivalent of 1.5 trillion U.S. dollars). That accounts for 53% of the total amount of loans issued to enterprises of which the share of cashless credits is 5.9%.
As for unemployment, according to China's Academy of Social Sciences, its level in Chinese cities was put at 9.4% in December last year with growth forecasts of up to 14.2%.
In the meantime, some experts believe that the number of unemployed reached 40 million people in March this year, and their number has increased by several more millions since then, primarily because of the ongoing decline in exports.
"Unemployment growth has been quite serious since the beginning of the year, but according to our estimates its level is twice as low, i.e. 20 million. China is trying to decrease unemployment by introducing economic stimulation programs and re-orientating its economy towards internal growth. Regional development programs are also targeted as solutions for employment problems," Sergei Sanakoyev says.

"Today we are watching how the Chinese economy is being re-oriented to meet the domestic demand, but it takes time. Actually, new jobs are being created now and we expect the unemployment rate to start falling by the end of the year,"' he stressed.
However, Mr. Wan is less optimistic. He says that "no one counts unemployed peasants" while regional projects are largely intended for infrastructure purposes. Therefore, credits are received by state organizations rather than small and mid-size enterprises. "Now, the fall in exports has really slowed down but when the whole world is confronted with a falling GDP, our authorities keep talking about ongoing economic growth. It's a lie. By the way, this year is special and the authorities are very much afraid of instability," Wan said.
He recalled that 2009 sees the 20th anniversary of the student uprising on Tiananmen Square. There have been several incidents, including protest marches in cities across China. As for the authorities, they've recently held a special anti-crisis training for executive officials so they know how to deal with the protest sentiment in the correct way.
It should be noted that about 87,000 protests were registered in China last year.

By Alexei Shcheglov, BFM.ru
You can share this story on social media: