CSTO launches situation containment exercises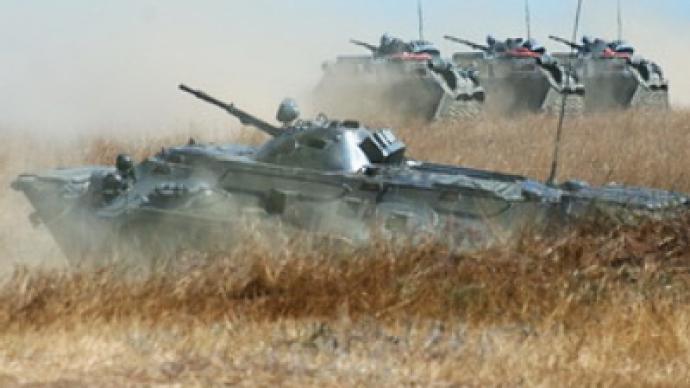 The Collective Security Treaty Organization's (CSTO) large-scale drills have kicked off at the Chebarkul range in Russia's Urals. Over 1,700 servicemen and 270 units of military hardware are taking part.
The CSTO Collective Operational Reaction Force (CORF) tactical exercises – entitled "Interaction-2010" – at the training ground in the Chelyabinsk Region will take place from October 25 to 28. It is the first time that the organization is holding its drills on Russian soil. The use of non-lethal weapons is going to become yet another novelty marking the event.Soldiers from six CSTO member-states – Russia, Tajikistan, Armenia, Kazakhstan, Kyrgyzstan and Belarus – are taking part in the drills, opened today by the CSTO Secretary-General Nikolay Bordyuzha.The main point of the training, he said "is jointly to practice military tasks and be ready to counter threats that our states may face.""This work is crucially important for our counties," Bordyuzha stressed, cites Itar-Tass.Earlier, the organization's spokesman Vladimir Zainetdinov told the agency that the CORF military contingents will practice combat actions to localize an armed conflict in the collective security region."About 300 servicemen and 12 airborne combat vehicles will be landed from the jets Il-76 in an active stage of the exercises," he said. While the servicemen are upgrading their skills, the CORF command is getting a chance to practice operation planning.The CSTO – a military alliance between the former Soviet republics – was created on May 15, 1992 in order to provide security in the post-USSR space and to prevent international terrorism and extremism. Its current members are Armenia, Belarus, Kazakhstan, Kyrgyzstan, Russia, Tajikistan, and Uzbekistan. Azerbaijan and Georgia withdrew from the organization back in 1999. Tbilisi is now actively seeking NATO membership.In February, 2009 – during the CSTO summit in Moscow – the bloc agreed to set up a collective rapid reaction force to combat terrorism, military aggression, and drug trafficking. So far, six of the CSTO members have signed the agreement to join the collective forces; Uzbekistan has refused to do so.
You can share this story on social media: