Chavez: "Thank you, Russia!"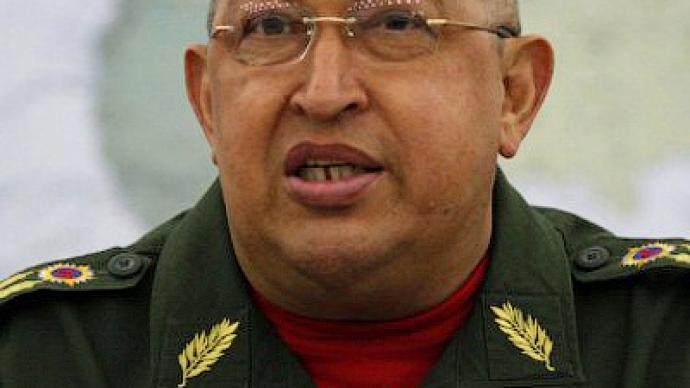 Venezuela's President Hugo Chavez is grateful to the Russian leadership for advanced armaments intended to ensure his country's independence.
"I would like to thank President Dmitry Medvedev and Prime Minister Vladimir Putin for the world's most advanced armaments manufactured in our dear, fraternal Russia," Chavez said. His comments were made over the phone while greeting servicemen participating in a special ceremony to mark the presentation of the Russian military hardware to the Venezuelan army on Wednesday. "Thank you, Russia!" the president exclaimed.Venezuela has no intention of attacking any country and only needs weapons to safeguard its independence, Chavez stressed. He urged soldiers of the Bolivarian army to remember they "have the world's best weapons." According to Venezuela's Defense Ministry, one of the detachments received Russian antiaircraft weapons, mortars and armored personal carriers. In September 2009, Venezuela got a $2.2 billion loan from Moscow to purchase Russian-made weaponry. Caracas received Su-30 fighters, helicopters, military hardware, including antiaircraft complexes, as well as thousands of Kalashnikov submachine guns.
Going for gold
Meanwhile, Chavez announced an extraordinary decision to nationalize the country's gold mining industry. He also intends to return home gold reserves currently being held in US and European banks.Chavez made it clear that while the economies of the United States and Europe are in turmoil, his country should protect itself. He also asked rhetorically: "For how long should we, the countries of the south, keep on funding the countries of the north?" The gold reserves will be taken to the vaults of Venezuela's central bank. However, Chavez does not rule out that part of them will be sent to Russia, China and Brazil, in order to diversify the assets and gauge "the strength of their economies."  Earlier this week, Venezuela's leader said the economic and strategic alliances Caracas has built over the last 12 years will help the country weather any economic crisis.   Some European countries are experiencing difficulties, and the US "cannot escape this situation," Chavez said. "There, Obama is in his own labyrinth." The president said Venezuela needs a powerful Bolivarian National Armed Force to protect "the largest oil reserves in the world." Caracas is currently negotiating a credit agreement with Russia to purchase more armaments. The finance and planning minister, Jorge Giordani, will travel to Moscow soon to finalize the details of the deal Venezuela hopes will strengthen its armed forces.
You can share this story on social media: