Chavez determined to get second chance at life presidency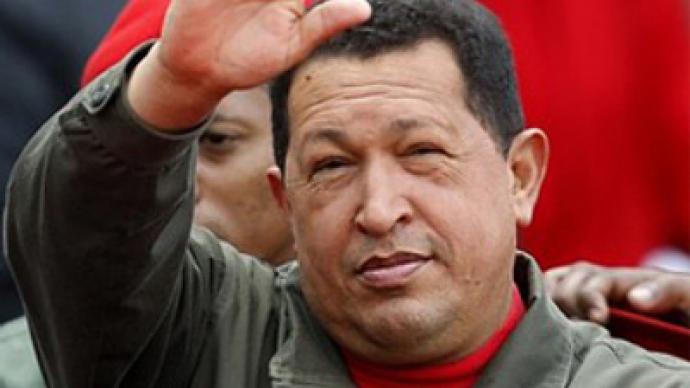 Rising intolerance and intimidation has marked the run up to the poll on presidential term limits. Opposition figures, students and religious groups have all faced tear gas and vigilantes.
Venezuelans go to the polls today to decide whether President Hugo Chavez can be re-elected indefinitely after already ten years in power.
This is President Chavez's second attempt to remove the constitutional ban on successive re-election. He lost a similar vote 14 months ago and is now narrowly ahead in the polls. If President Chavez loses the vote, he is to leave office in 2013.
The run up to the election has been characterised by rising authoritarianism and vigilantism. There has been violence on both sides of the argument, including an attempted murder on a pro-government journalist last month. The ruling United Socialist Party of Venezuela has been cracking down on dissenting voices.
A climate of fear and insecurity has developed. Just days before the referendum, President Chavez announced that an attempted coup had been thwarted. A similar claim was made before regional elections in 2008. President Chavez was briefly ousted from power by an alleged U.S.-backed coup in 2002.
Some observers believe the claims are developed to motivate Chavez supporters and distract voters from the country's problems. Caracas is one of the world's murder capitals, corruption in the oil-based economy is endemic and there are shortages of basic goods.
Student opposition on the frontlines
There have been accusations of heavy-handed policing of anti-reform marches. Students have been at the forefront of the opposition and subsequently have borne the brunt of authoritarian rule.
President Chavez has encouraged the use of tear gas against them. The gas, plastic bullets and water cannons have all been used to break up protests. In their defense, the police claim to have confiscated scores of Molotov cocktails from students.
Dozens of student leaders have been arrested without clear charges and their phones have been tapped. Student leader Freddy Guevara said:
"We have filled a vacuum of power and become the symbol of opposition to Chavez."
Government-backed media has been used to attack student leaders, such as David Smolansky, who has had his Jewish heritage addressed by a talk-show host.
Synagogue attacked as anti-Semitism rises
Anti-Semitism has been on the rise in Venezuela. Israel has become President Chavez's favorite object of disgust. After describing Israel's attack on Gaza as 'genocide' he expelled its ambassador.
"Let's hope that the Venezuelan Jewish community will declare itself against this barbarity," President Chavez said on a state-controlled television channel. A pro-government website called for a demonstration at Caracas's largest synagogue.
Masked armed men subsequently attacked the synagogue on January 30. Out of eleven people arrested there, eight were policemen. The President responded to opposition accusations that he had fomented anti-Semitism as incitement of 'a religious war'.
Pope's representative tear-gassed
While the Bishops' Conference of Venezuela held a press conference supporting the Jewish community, news came through that the Pope's representative's residence had been attacked.
There have been seven tear-gas attacks recently on the Apostolic Nunciature. La Piedrita – a pro-government group – claimed responsibility for these outrages, as well as tear-gassing an anti-Chavez television station. While the President has called for the group's leader to be arrested, he still runs free.
The relationship between the Church hierarchy and the President is poor. On February 9, a government news outlet reported the Church was plotting with student groups to assassinate the head of state.
In a sign of the escalating violence, a grenade exploded outside San José church in central Caracas last weekend. The Apostolic Nunciature and the Bishops' Conference are now under the protection of the military.
Jonathan Stibbs for RT
You can share this story on social media: