Six ex-presidential candidates jailed for Minsk unrest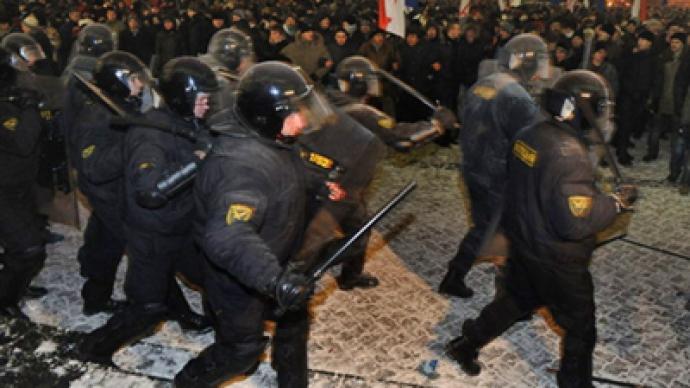 Six former presidential candidates in Belarus are suspected of masterminding "mass disturbances" in the capital Minsk on December 19, reports human rights organization Vesna (Spring).
Seventeen people are currently suspects in the criminal case over the rally against President Aleksandr Lukashenko's election victory on Sunday, Vesna website says. Among them, Vladimir Neklyayev, Andrey Sannikov, Grigory Kostusev, Aleksey Mikhalevich, Vitaly Rymashevsky, Nikolay Statkevich and two journalists – one is Irina Khalip, the wife of Sannikov.Aleksey Mikhalevich's press service confirmed that he is currently in the Belarusian KGB's investigative isolation ward, reported RIA Novosti.Under Belarusian law, the suspects could face up to 15 years behind bars if found guilty of organizing mass disturbances. Officials have not yet commented on the case. Earlier it was reported that over 639 people had been detained, including nine Russians, in connection with the protest. Five hundred and eighty are still in custody, but will be released in 15 days. On Sunday, opposition supporters took to the streets of Minsk to protest against Lukashenko's victory which secured him a fourth term in office. They claimed the election was rigged and demanded a new vote without the long-time leader taking part. Some demonstrators tried to storm the parliament building but were dispersed by riot police.
You can share this story on social media: