Bushehr is purely economic, not political issue – analyst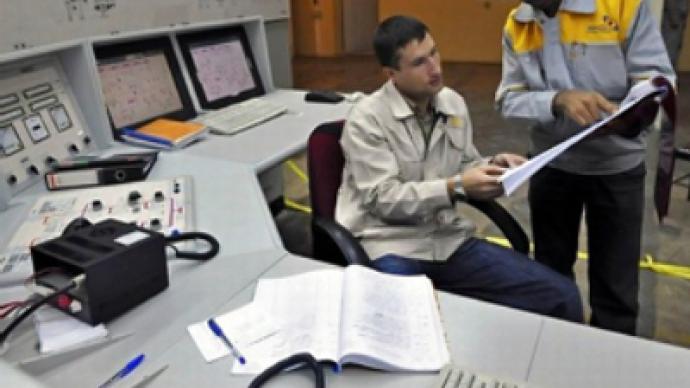 The Russian-built nuclear power plant in Iran's Bushehr is an economic project and has nothing to do with politics, analyst Sergey Pereslegin has told RT.
On August 21, Russia is expected to load nuclear fuel into the reactor at the Bushehr station – the first nuclear power plant in the Islamic Republic of Iran. There are divided opinions on the project in the world, with some fearing the access to nuclear technologies may help Iran to advance in its controversial uranium enrichment program. Yet what does the Bushehr plant mean for Tehran, and what is Russia's interest in the project?
Sergey Pereslegin, advisor to the Director of the Atomic Reactors Research Institute in Dimitrovgrad and author of the study "Myths of Chernobyl" shared his view on the issue in an interview with RT's Nadezhda Kevorkova.
"Iran wants to have a peaceful nuclear program, because this would be an economic and technological breakthrough to modern technologies." he said.
As for Russia, it wants to strengthen its position on the market of nuclear technologies. "There are only a few countries in the world that can share such technologies with others. The competition here is tough," the analysts said.
At this point, he explained, the main competitors on that market are Russia's Rosatom, France's Areva, and several Japanese companies: Toshiba-Westinghouse, Mitsubishi, and Hitachi with General Electric. Canada and South Korea also occupy their special niches on the market. Meanwhile, China and India are eager to enter this market.
"Please note that the United States is not among these players, it only has part in Japanese multinational corporations," Pereslegin underlined. "This is an economic, not a political issue. The US wants to make it look like a political issue or even a security issue."
"If Tehran doesn't acquire modern technologies, this would give the US more reasons for its military, political and economic presence in this strategic region. To the US, this is, first and foremost, a matter of political interests. However, they can be easily converted into money," he said.
"The Nuclear Non-Proliferation Treaty (NPT) clearly states that countries have the right to develop a peaceful nuclear program and that the countries that already have nuclear technologies should share them with others. It is their obligation. So all accusations made against Russia and Iran with respect to Iran's peaceful nuclear program are unfounded," Pereslegin told RT.
Later, the analyst noted, the US pushed for certain amendments to the NPT.
"The legitimacy of these amendments is questionable, because they contradict both the letter and the spirit of the treaty, and they were not adopted properly. In essence, they are not legally binding, they do not have the status of an international law; they are International Atomic Energy Agency (IAEA) resolutions," he said.
Even though the IAEA is an influential organization, it has no authority over nation-states, the analyst said. "Of course, the US has the right to give financial aid to those countries that accept all the amendments and not support those who refuse to accept them," he noted.
Pereslegin is confident that putting political pressure on Iran and Russia over this matter makes no sense and will lead to nothing. "This pressure may be interpreted as an attempt to impose obsolete energy technologies on less developed countries. Such pressure is nothing else than a variety of Western colonialism," he said.
Nuke plant a step to cleaner air
According to Sergey Pereslegin, the nuclear plant in Bushehr is a big step towards cleaner air, "because coal- and oil-fueled industries pollute the atmosphere with nitrogen and carbon gases."
"This summer gives us a good picture of what it is like. Pollution causes abnormal weather conditions like the ones we see in Russia," he said, referring to the extreme, almost African heat that hit Russia this summer.
The author has his own explanation for the abnormal weather.
"The Siberian High plays an important role in weather patterns. In the recent decades it has become a stable anticyclone determining the weather in most of Eurasia," he said.
"Most researchers say it has to do with the economic growth of Asian countries, primarily China and Iran: the impact of industrial growth in India is limited to that region, because the Himalayas create a good barrier.
"Industrial growth means higher energy consumption. In China and Iran, energy mostly comes from coal, with Iran also using diesel as fuel (specifically low-quality diesel, because high-quality fuels are exported). These coal- and diesel-fueled stations pollute the air, and the atmosphere accumulates solar energy.
"This leads to higher temperatures in most of Eurasia, which strengthens the Siberian High. The resulting area of high atmospheric pressure gives us the kind of weather we are all witnessing," Pereslegin said.
He noted that that this year the weather had specific characteristics: "the Siberian High was not limited or weakened by bordering cyclones; these cyclones were only present in the south-west of the continent. This is due to dysfunctional evaporation over the Atlantic, caused by the oil spill at the BP rig in the Gulf of Mexico."
Pereslegin believes that the international community should welcome Iran's desire to switch to environmentally clean nuclear energy, as well as China's steps in the same direction.
Supporting sanctions was Russia's mistake
In June this year Russia supported the UN Security Council's sanctions against Iran over its nuclear program "under pressure from the US."
That, according to Sergey Pereslegin, was a short-sighted step. "Eventually Russia realized it was wrong. By announcing the launch of the Bushehr plant, Russia indirectly admitted that it made a mistake."
Pereslegin insists that these sanctions "go against international law; they are unlawful."
"It is a good thing the Russian leadership realized that the sanctions do not apply to Iran's peaceful nuclear program and defensive weapons," he concluded.
You can share this story on social media: