Egyptian uprising could happen in Georgia – opposition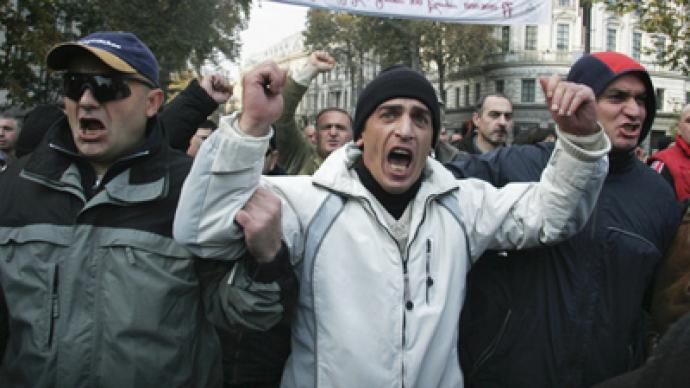 Georgian opposition leader Nino Burjanadze has said she does not rule out that one day her country could experience events similar to the scenarios in Egypt and Tunisia.
Burjanadze, former parliament Speaker and now the chair of the "Democratic Movement – United Georgia", said that Tbilisi's statements that the West supports the country, and the entire world is ready to plough in investment are nothing but a myth."Last year Mikhail Saakashvili said that the economic crisis did not affect Georgia. But that is not the leadership's merit; it is only thanks to grants that Georgia received as aid," she told a media conference in Tbilisi, reports Rosbalt agency. Meanwhile, annual inflation in the country reached 12.3% in January compared to December's 11.2% due to increasing food and fuel prices, reports Civil Georgia online news outlet citing the state statistics office. The country's authorities blame external reasons – such as rising food prices on the world markets – for the inflation. Opponents, however, believe it is by far not the only explanation. According to Nino Burjanadze, the authorities spend too much money on blackening the image of the opposition. Commenting on Egypt's uprising, she said that she does not rule out that "one day the same that happened in Tunisia and Egypt can happen in Georgia".Earlier, the politician visited the World Economic Forum in Davos, Switzerland, where, among globally important issues, the situation in Georgia was also touched upon by participants – politicians and businessmen from all around the world.Summarizing her visit to the world's biggest economic event, the opposition leader said that "during informal meetings the irrationality and irresponsibility of the economical policy of the current government of Georgia became more obvious".In a statement published on the website of "Democratic Movement – United Georgia" she said that even though the leadership spends "millions on PR and lobbyist companies, the prognoses regarding the economic development of the country are very negative". She also noted that it was clear to everybody that without changes in Georgia's political system, "the country is losing the chance to protect its own interests and regain its place in the region".
You can share this story on social media: