Bill on reduced vote threshold adopted in first reading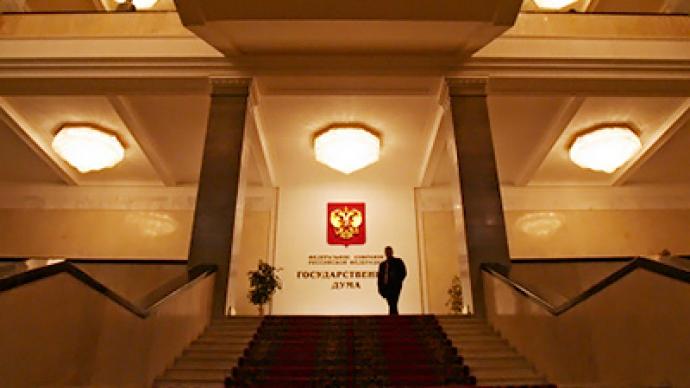 Russia's lower house, the State Duma, has approved a draft law on lowering the vote threshold by two per cent for the federal parliamentary election. This means that to make it to the Duma a party would need five per cent of the votes.
However, even if adopted before this year's election scheduled for December 4, it will only apply to the parliament of the next convocation and would first be applied in 2016. In fact it is a return to the norms that existed in the period from 1993 to 2003. The current seven per cent threshold was introduced at the time of Vladimir Putin's presidency. In the last parliamentary election in 2007, four parties managed to overcome it.  The new bill was submitted to the State Duma by President Dmitry Medvedev on June 24, shortly after his interview to the Financial Times in which he said that in the future the electoral threshold could be reduced even further, to three per cent. Commenting on that interview, the State Duma Speaker and Chairman of United Russia's Supreme Council Boris Gryzlov observed that he considers the seven per cent threshold justified and that lowering the barrier will be a task for the next convocation. Opposition members, on the contrary, stated that new rules should be used this December. During the debate, a Fair Russia MP asked Garry Minkh, presidential envoy in the Duma, "why the threshold was raised from five to seven per cent before the 2007 election and there's a need to return to the starting point?" Minkh explained that earlier "the political landscape was made up of more than 150 political forces" and that thanks to the increased barrier "we stimulated the process of enlargement and structuring of political parties.In general, the bill did not face serious obstacles in the lower house. All four factions supported Dmitry Medvedev's proposal, although opposition continues to push for amendments allowing the law to be applied to the next parliamentary convocation.