Belarusian students expelled for anti-government protests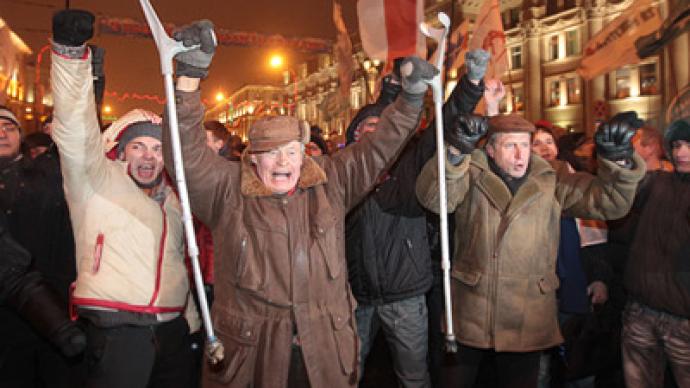 Authorities in Belarus have started to expel students who took part in mass protest rallies after the December presidential election, human rights groups say.
More than 70 per cent of the almost-700 people who were detained during the riots on December 19-20 were students. Many of them have already been expelled from universities or will be expelled after winter examinations. The first to be expelled were youths detained by police during rallies and sentenced to 10-15 days of administrative arrest. Those who were not arrested, but were spotted at the scene of the protest rallies are being prevented from taking exams, students say. It is "a certain fact" that the order to expel students exists, noted Sergey Semenyuk, an activist of the Studencheskaya Rada group. He believes young people will be expelled regardless of where they study.The administration departments of Belarusian universities are not commenting on the reported large-scale expulsions. But officials at the Belarusian State University said no students there have been expelled "for political reasons."Some of those who lost the opportunity to study in their own country may enter universities in Europe if the EU will render its assistance and create new places. About 50 universities in Poland may receive Belarusian students and grant financial assistance to them. Some instructors and scholars may also be employed by Polish universities, the country's Education Ministry said late last year.Lithuania has promised to increase support for the European Humanitarian University, which earlier had to transfer its activities from Belarus, together with many students.Czech Interior Minister Radek John has told reporters that Prague may grant asylum to some of persecuted members of the Belarusian opposition. The cost of visas for ordinary Belarusian people may also be reduced. At the same time, the Czech Republic is considering imposing tougher sanctions against officials "who trample democratic norms and principles," he said.Meanwhile, UN Secretary General Ban Ki-moon has urged authorities in Minsk to release opposition figures and journalists who were arrested during the rallies. However, Belarusian authorities do not seem to heed statements of foreign leaders and consider those who took part in protest rallies to be "hooligans and vandals." On Monday, the country's law enforcement agencies interrogated several public activists and journalists, media say. The Minsk City Court ruled on Tuesday that one of detained former presidential candidates, poet Vladimir Neklyayev, should stay in custody. He has been accused of organizing riots on the day of presidential elections.
You can share this story on social media: