Minsk eases charges against arrested Russians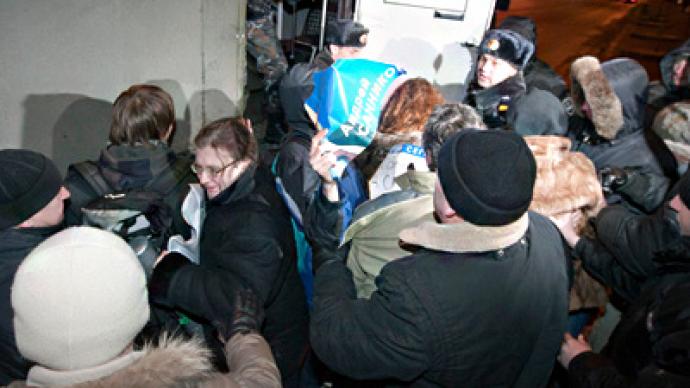 Belarusian authorities have eased charges against two Russian citizens arrested in Minsk during a protest rally following the presidential election on December 19, which secured Aleksandr Lukashenko a fourth term in office.
Earlier, Ivan Gaponov and Artyom Breus were accused of violating Article 293 (part 1) of the Belarusian Penal Code for "organizing mass disorder", which meant that the two could face up to 15 years in jail. On February 3,"the charges brought up against the Russians earlier were changed," a counselor of the Russian embassy in Belarus, Vadim Gusev, told Interfax. Now the men are accused of participating in mass disorder. "This offense carries a sentence ranging from three to eight years in prison," the official said. Earlier, Russia's Foreign Minister Sergey Lavrov called it "unacceptable" that two Russian citizens have remained in custody in Minsk for over a month now. "Frankly speaking, the charges brought against them are nonsense. We are now trying to get more clarity on the matter from our Belarusian colleagues," he told RT. He also recalled that earlier in January the Ministerial Committee of the Council of Europe unilaterally passed "a resolution demanding that Belarusian authorities release arrested presidential candidates, rights activists and journalists and respect European values and principles". A series of opposition protests took place in the wake of the Belarusian presidential election at the end of December, which brought a landslide victory to Lukashenko. The opposition claimed the election results were falsified and demanded a new vote was held, but without the long-time leader Lukashenko taking part. The opposition protest was violently suppressed by police and about 700 people, including former presidential candidates, were arrested. Twelve Russian citizens were among those taken to custody. While ten of them had a "lucky" escape – one was fined and others were sentenced to 10-15 days in jail – Gaponov and Breus were arrested again shortly after being released with new charges being brought against them.
You can share this story on social media: