Death Penalty for Minsk Metro bombers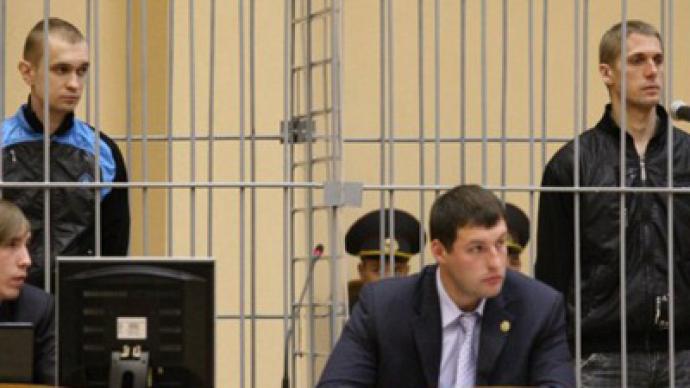 The Supreme Court of Belarus has sentenced the two people to death for carrying out a terrorist attack in the Minsk subway that killed 15 people and wounded over 200.
The sentences for Dmitry Konovalov and Vladislav Kovalev were issued on Wednesday afternoon. Earlier on the same day the court found both suspects guilty of terrorism – investigators had established that the two men prepared and performed the bomb blast in Minsk Metro on April 11 this year.Konovalov was also found guilty of another bombing that took place on July 3, 2008, at a concert held on Belarusian Independence Day, wounding about 50 people. Kovalev was also tried in this case, but the court cleared him of those charges.Konovalov and Kovalev were detained by Belarusian police on the day after the Metro bombing. At a preliminary investigation, both suspects confessed to their crimes and said they were seeking to destabilize the political situation in Belarus. Later, however, they both disavowed this testimony.When prosecutors asked for capital punishment for Konovalov and Kovalev, relatives of the accused and Belarusian rights activists demanded a new investigation be conducted, as the official probe had left many questions unanswered. In particular, forensic experts found no traces of explosives on the clothes or skin of the accused, and the explosive device built by Konovalov in the course of a forensic experiment did not resemble the device reconstructed by experts from the remains of the Metro bomb. Besides this, investigators failed to explain the motives of the convicts apart from the one provided in the confessions that were later retracted.Kovalev's mother also launched a special website on which she started to collect petitions for the abolition of the death penalty in Belarus. So far, the site has received over 5000 votes.Many representatives of international community have already condemned the death sentence issued to the Belarusian bombers. Member of Russian Public Chamber Anatoly Kucherena said that the court decision was "medieval". "Such events in Central Europe in the middle of 21st century – this is some nonsense. The only thing they lack is a picture of a scaffold," the lawyer noted. 
The Council of Europe Secretary General Thorbjørn Jagland also condemned the death sentence. "I urge the Belarusian authorities not to carry out the death sentences pronounced today against Dmitry Konovalov and Vladislav Kovalev. The crime they were found guilty of was barbaric, but their punishment should not be the same," the official said in a statement.
You can share this story on social media: