Bandera: Ukraine's national hero or traitor?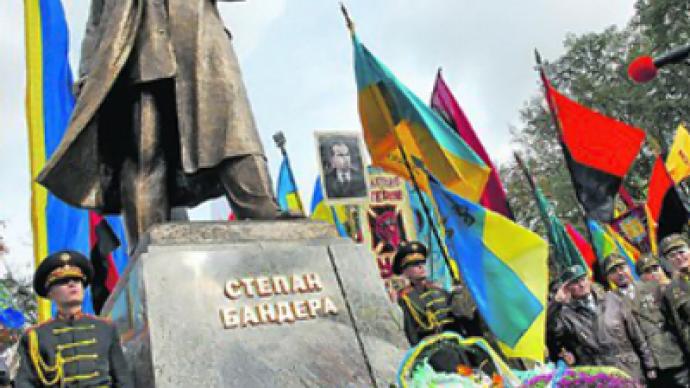 Several court cases have been initiated in Ukraine against outgoing President Viktor Yushchenko's decree to posthumously award controversial WWII figure and nationalist leader Stepan Bandera.
One of them, initiated by lawyer Vladimir Olentsevich, is starting on Thursday in Donetsk. He argues that the leader of the nationalist movement cannot be the country's hero since he was never actually its citizen.
Crimean MPs have also asked Ukraine's Constitutional Court to strip Bandera of the Hero of Ukraine title, and to cancel the presidential decrees "connected with the glorification of Nazi accessories."
The lawmakers have said that Yushchenko's decision was not legitimate, also calling on the incoming President Yanukovich to cancel the decree as it "jeopardizes the territorial integrity and international authority of Ukraine by promoting extremism and fascism."
As part of the argument they also added that Bandera was not even a Ukrainian citizen, having been born in 1909 in the village of Stariy Ygriniv, which was part of the former Austro-Hungarian Empire. Moreover, the MPs state that the title of Hero of Ukraine is not awarded for actions which took place in the past and that are not connected with the development and formation of Ukraine. Bandera died in 1959, and Ukraine only became an independent state in 1991.
Meanwhile, the Communist Party of Ukraine said that if the newly elected president Viktor Yanukovich will not annul Yushchenko's decree, the communists will refuse to form a coalition with the Party of Regions.
The controversial figure of Stepan Bandera
On January 22, Viktor Yushchenko, who had just lost the election, awarded the Hero of Ukraine title to Stepan Bandera. Bandera, among other things, has been accused by many of cooperating with the Nazis during the Second World War.
For instance, in 1941 Bandera urged the Ukrainian people to help Nazis destroy Moscow and the Bolsheviks. He was the leader of the Ukrainian Insurgent Army (UPA) that was created in 1942 by a faction of the Organization of Ukrainian Nationalists (OUN). The UPA fought mostly against the Armia Krajowa of Poland and the Red Army in Western Ukraine.
The OUN-UPA men – who were also known as the "Bandera Men" – are accused of several crimes, including killing some 100,000 Poles, Czechs and Jews in the Western Volyn Region. Thousands of Ukrainians who refused to cooperate with them were also murdered. For those activities, Bandera is now considered to be a criminal and a terrorist in Poland.
However, in Western Ukraine, many people see Bandera as a hero. Streets in several cities have been named after him and a monument has also been recently been erected in his name in Lvov. But in eastern, southern and central parts of the country Bandera is seen as a traitor and Nazi sympathizer.
International reaction
Yushchenko's decree has caused turmoil and provoked a strong reaction not only in Ukraine, but also abroad. Even Israeli Prime Minister Benjamin Netanyahu called the awarding of the Hero of Ukraine to Stepan Bandera as unacceptable:
"Any glorification, recognition given to the people who participated in vile actions against people, innocent people, my own people, is something we cannot accept," the Israeli prime minister said in an interview with Interfax and Kommersant daily.
Russia has also condemned Yushchenko's actions. Prime Minister Vladimir Putin said that, by that decree, Yushchenko has insulted his political supporters: "Developments over recent months didn't come as a surprise. The leaders of the 'color movement' in fact spat in their political sponsors' faces by issuing a decree which declares Stepan Bandera a national hero."
The usually Ukraine-friendly Poland also sharply criticized Yushchenko's decision. Its president, Lech Kaczynski, said that Yushchenko's actions are caused by his "current political interests" and contradict the historical truth.
However, Yushchenko denies it was a political move, saying that "you can't gain any points on Bandera."
Up to Yanukovich to decide
During one of his recent press conferences, Yushchenko said that he hopes Viktor Yanukovich will not annul his decree. "There wouldn't be such a figure as Viktor Yanukovich now if there had not been such a figure as Bandera. At least Yanukovich would not have become the president of an independent country," stressed Yushchenko.
Earlier, Ukraine's newly elected president said he will look into the issue and will make a decision, so that in the future "we could avoid questions about rewriting our history."
Yanukovich also said that awarding such a title to Stepan Bandera is "very controversial for our country and causes a further split of Ukraine," adding that "this award is a modern one, which appeared during the years of independent Ukraine, and it's not right to award those people who have died long time ago."
The Party of Regions of Ukraine, headed by Viktor Yanukovich, said it is determined to secure the adoption of a law banning the rehabilitation and glorification of Nazi collaborators in 1933-1945. The party says that this law would automatically annul the awarding of the Hero of Ukraine titles to Stepan Bandera and Roman Shukhevych.
In May 2007, during his presidency, Viktor Yushchenko also awarded another nationalist leader Roman Shukhevych, who also held the SS rank of Hauptsturmfuhrer in Nazi Germany, with the Hero of Ukraine title.
However, analysts say that legally it will be very difficult for Yanukovich to strip Bandera and Shukhevych of those titles:
"The status of the Hero of Ukraine award does not stipulate the possibility that a decree on awarding this title can be annulled," said Vadim Kolesnichenko, a member of the Ukrainian Party of Regions. Kolesnichenko therefore thinks that the only way to resolve the problem is to adopt a law banning the rehabilitation and glorification of Nazi collaborators in 1933-1945.
Meanwhile, many question Viktor Yushchenko's motives when awarding such titles to controversial nationalist figures. The last one, for instance was awarded by him not during the 100-year anniversary of Bandera's birthday, but right after Yushchenko had lost the first round of presidential elections.
Even though Yushchenko denies any political motives, many analysts think otherwise. Yushchenko's electorate is mostly in Western Ukraine, where Bandera is seen as a hero. Also, after the defeat in the elections, in his address to the nation, Yushchenko said that he is not planning to leave politics and wants to unite all right wing forces under his leadership.
Olga Masalkova, RT
You can share this story on social media: