Intelligentsia slams lack of political competition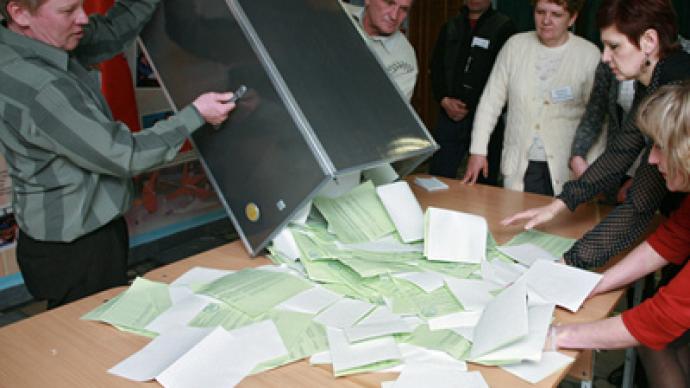 A group of Russian rights activists and artists have appealed to the country's leadership demanding that all political parties be registered and allowed to take part in the upcoming elections.
Signatories of the statement called on the government to "lift the anti-constitutional de-facto ban on registration of new political parties" and ensure that all political forces be able to take part in the parliamentary elections scheduled for December of this year as well as the 2012 presidential vote. According to the activists, it is up to citizens to make their choice rather than bureaucrats. "All parties that have been denied registration for different awkward reasons, should be registered," the letter reads, as published on the website of Echo Mosvy radio station.The intelligentsia representatives also voiced their concerns over the lack of political competition and electoral fraud, stating that "the institution of democratic voting" had almost been eliminated.The statement was signed by several famous actors, film directors and human rights activists, including the head of the Moscow Helsinki Group, Lyudmila Alekseeva and Georgy Satarov, head of the Indem (Information Science for Democracy) Foundation. However, according to Boris Gryzlov – State Duma Speaker and Chairman of the Supreme Council of the majority United Russia party – the four Russian parliamentary factions reflect the interests of the absolute majority of the population."We have seven parties. These parties are pretty distinct, have their programs, and well-developed regional networks," he told journalists commenting on the artists' statement, cites Interfax. Gryzlov noted that during 2007 parliamentary elections, United Russia, the Communist Party, the Liberal-Democrats and Fair Russia were supported by 92 per cent of the electorate."Can other parties be created? Of course!" he stressed. However, to be officially registered, every new entity should fulfill the requirements of the Law on Political Parties, such as having its offices in at least half of Russian constituent assemblies. "Being a party is a high honor," Gryzlov pointed out.President Dmitry Medvedev will not comment on the statement made by artists and human rights activists, his Press Secretary Natalya Timakova said. "All Russian citizens are entitled to voice their opinions on processes that are underway in the country, including those connected to the pre-election situation. The President has the right to not react to such statements," she said, as quoted by RIA Novosti.
You can share this story on social media: