America "goes mad" over Israel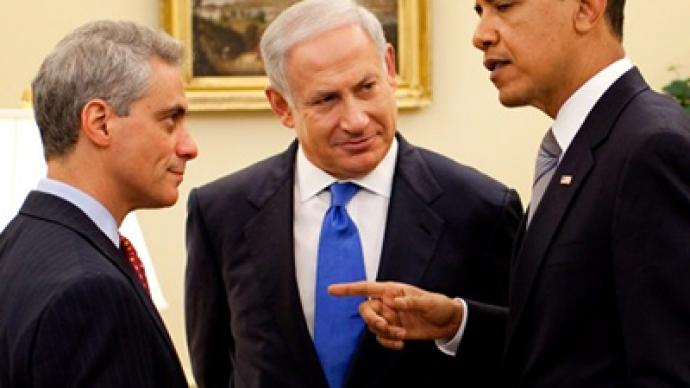 Washington has offered Israeli Prime Minister Benjamin Netanyahu 20 advanced US fighter jets as well as other tempting goodies if Israel agrees to extend its freeze on settlement construction in the West Bank.
The Israeli-Palestinian peace talks ground to a halt after Israel's ten-month partial construction moratorium expired in September. If Netanyahu was holding out in anticipation of juicy incentives from the US mediators in return for an Israeli extension on the settlement freeze, he was certainly not disappointed.Indeed, the offer from Washington is so tantalizing that even the Israeli media is calling it a "bribe."Netanyahu, who was in the United States last week to hammer out the details of the "compromise," has been offered $3 billion (1 billion pounds) worth of advanced F-35 jets. These on top of the 20 F-35s Israel already plans to buy for $2.75 billion drawn from annual grants it gets from Washington. In other words, Israel is slated to receive 40 advanced fighter jets – a package worth just under $6 billion dollars – absolutely free of charge courtesy of the US taxpayer.Palestinian officials expressed their displeasure over Washington's lavish attempts to get Israel to extend the partial moratorium on Jewish settlement construction, saying it effectively constituted bribing Israel to live up to fundamental international obligations. "Any official Palestinian announcement will come only after President Abbas hears…from the US administration what is evolving between them and the Israelis," Nabil Abu Rdainah, the spokesman for Palestinian President Mahmoud Abbas, told reporters. Fighter jets and peace talksIt must seem ironic to some political observers that US President Barack Obama, who was awarded with the Nobel Peace Prize last year, is the same man who is indulging Israel with America's most advanced fighter weapons of war to stay committed to the Middle East peace plan. There is also the question of supplying Israel, albeit a valuable US ally, with so much expensive military hardware at the same time American citizens are forced to cut back on spending due to the financial crisis."Israel receives about $3 billion in direct foreign assistance each year, which is roughly one-fifth of America's foreign aid budget," wrote Harvard academics John J. Mearsheimer and Stephen M. Walt in their controversial paper entitled The Israeli Lobby and US Foreign Policy (2006). "In per capita terms, the United States gives each Israeli a direct subsidy worth about $500 per year."Mearsheimer and Walt added that "Israel is the only recipient that does not have to account for how the aid is spent…like building settlements in the West Bank."In addition to the largesse being offered for a temporary halt on settlement construction in the West Bank (the deal would have no impact on settlement construction in East Jerusalem, the site the Palestinians envision as the capital of their future state), the Obama administration has also promised not to demand any future settlement freezes, while supporting Israel in the United Nations against any efforts of a "unilateral declaration of Palestinian statehood."Even Israeli commentators were incredulous with the White House proposal, with one writer from Haaretz wondering if somebody had "gone mad.""The list of defense-related and other gifts the U.S. administration is willing to offer to Israel in exchange for three months of construction freeze in the settlements raises suspicions that someone has gone mad," Amos Harel writes. "Since Obama entered the White House two years ago, he has not given the impression – at least in terms of foreign relations – of being a particularly tough negotiator. Nonetheless, this time the administration appears to have gone overboard…"Harel goes on to speculate that the lavish incentives bestowed on Israel may be part of an American effort "to persuade Israel to commit to desisting from any independent action against the nuclear installations of Iran, in exchange for a substantial future reinforcement of the Israeli Air Force."While that certainly seems like a reasonable suggestion, it fails to address the point of the "bribe" in the first place: the creation of a Palestinian state.Indeed, the very fact that the United States has included a clause stating that it would not request further settlement freeze extensions in the future, while also declaring its intent to side with Israel in the face of any UN challenge does not seem to bode well for the immediate future of the peace talks. On the other hand, however, with Israel now sitting in the driver's seat perhaps it feels this would be the perfect time to throw its support behind a two-state solution.Certainly, Benjamin Netanyahu understands the risks involved by delaying the creation of a Palestinian state.As New York Times columnist Thomas Friedman explained, "Netanyahu toys with President Obama, makes Israel look like it wants land more than peace and risks never forging a West Bank deal – thereby permanently absorbing its 2.5 million Palestinians and eventually no longer having a Jewish majority. That's the sudden stop at the end — unless the next war comes first. But, for now, Bibi seems to think he can fly."Yet, despite the outrageous inducements being proffered by the Obama administration in return for Israel's temporary cooperation, there are political characters in Israel who are actually opposed to the plan.Israeli Vice Premier Moshe Ya'alon on Sunday, calling the US incentives a "honey trap," condemned the new American proposal during an emotional meeting of ministers from Prime Minister Benjamin Netanyahu's Likud party."Extending the freeze is a honey trap," Ya'alon said, which "will lead us down a slippery slope and into another crisis with the American administration after three months, or perhaps even sooner."At the same time, settler leaders said acceptance of the proposal would represent "a fundamental collapse" of the government's integrity. Vice Premier Silva Shalom summed up the American plan the most succinctly when he observed what is really at stake here."What is at stake," argued Shalom during a heated cabinet meeting, "is not a three-month building freeze, but in fact the beginning of negotiations over the borders of a Palestinian state."Shalom also criticized Netanyahu, saying, "It is a strategic error to condition an American veto [in the UN Security Council] and diplomatic support from Washington upon the continuation of a building freeze.""It is something that should go without saying, based on the special relationship between our countries," he added."If we freeze [settlement construction] for three months, the pressure on us to decide our permanent borders will be unbearable," Shalom told Israel Radio after the meeting. "Unfortunately, if that happens, it will be a huge mistake."The overburdened American taxpayer, who continues to foot the bill for every single day the Israeli-Palestinian stalemate continues, would most certainly agree.
Robert Bridge, RT